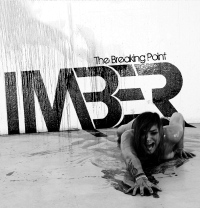 Audio clip: Adobe Flash Player (version 9 or above) is required to play this audio clip. Download the latest version here. You also need to have JavaScript enabled in your browser.
Band: Imber
Record: The Breaking Point
Release year: 2012
Review by: Hèctor Prat
Related links
Imber @ Metaladies
Imber official
Imber @ Facebook
Imber @ MySpace
Tracklist
1. Like A Ghost
2. No End Of Us
3. Naive
4. The Breaking Point
This debut EP reaches our ears with equal doses of melody and rage. This young Swedish band has combined styles as varied as metalcore, grunge, gothic, melodic heavy metal the likes of their home land, and hard rock to a melt and Imberize them stamping their own trademark. Let's call it Imbercore. Theirs is a metal for all ages, which will perfectly suit the expectations of each of their potential fans. The four songs featured in "The Breaking Point" form a very solid album that hitches you up from the beginning to the end, homogenous as it channels and defines the band sound, but heterogeneous in their details.
"Like A Ghost" is a hard-hitting and very catchy hit. Alternates quiet moments with bursts of rage. My Andersson's voice is capable of conveying a sense of despair and rage transpired in each of the notes that build up the song. The guitars change their register countless times, with powerful riffs, almost minimalist lines, some sparks consistent with their countrymen Katatonia or solos from the most classic of metals. It flaunts a compositional inspiration whose echo will resound in your head once you press the stop button.
"No End Of Us" has been perfectly equalized to control an energy that will surely explode on the stages it will rumble in. It has a touch of European Gothic and American metal. Universal Music with a universe of hues like the doubled guitar lines, the piano interlude, keyboards arrangements or the choirs.
The original and inspired "Naive" uncovers scream by scream the most heartrending version of Imber. It's a direct and straightforward cut, more monolithic than the rest but yet decorated with the complemented guitars emerging from the prolific tandem Madde Ceder/Lisette Leskinen. The track that entitles the EP, "The Breaking Point", is immense, bright from the first Lea Ceder's drumstick hit. Its chorus, magnified by choirs and keyboards, brings the epic to the album and ends it in a very high point and leaves you wanting more.
An album made to enjoy, for its quality, its melody, its catchy compositions, pleasant to listen but forcing you to headbang and scream due to their rage outbursts. The mix and the production do justice to the composition effort, to end up offering an advisable EP from a promising band.
Con Cialis, questo è facile – pas cher. Cialis con consulenza qualificata. Kaufen Sie Cialis unter lire l'article. Ein schneller Effekt mit Tadalafil ist garantiert!