Last time Vixen vistited Barcelona was in 1991. Much has happened since then: The Palau d' Esports, a metal sanctuary back then, no longer hosts concerts of this kind. The admission price was counted in pesetas, 2500 exactly (VAT not as crispy as now included), and the band had Jan Kuehnemund on guitar, who along with Janet Gardner, Share Pedersen and Roxy Petrucci brightened the walls of my room.
The cancer won the battle to Jan K, but the guitarist closed old wounds with her companions in 2012, promoting the reunion of the original lineup after an early demise in the early nineties due to the grunge metalicide. Parked were long years of litigation by the group name, lineup changes and reunion on VH1 in 2004 that end up in nothing but a TV show. The death of Kuehnemund not only did not stop the idea of reuniting Vixen but gave the final push to make it a tribute to who was its founder and main motor.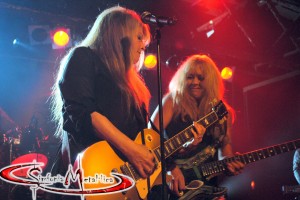 The Minnesota rockers have recruited again Gina Stile, who was already in previous incarnations of the band and habitual of female formations such as Poison Dollys or Thunderbox. Jan K can not be replaced in terms of presence and elegance in her way of playing, but the secret of the Gina good fitting in Vixen is just this, not trying to clone Jan but play just the role of Gina Stile, an energetic guitarist with a harder edge pushing the band's sound more into metal land.
There was eager to revival in the Razzmatazz II, almost packed to give a warm welcome to Vixen on his jump to the stage to play the first chords of "Rev It Up". There were not many (neither desired) surprises in the setlist, just a string of hits from her first two albums. And one by one they came to end up completing a special concert full of good vibrations, and most importantly, quality. Janet Gardner's voice remains perfect, Share not only comply with her bass duties but with the choirs too, and together with Roxy they create the perfect pulse for Gina to flaunt her riffs and solos.
In "How Much Love" people came up while Gina Stile came down, specifically to her knees, to offer a good solo. Then we cruised from "Cruisin'" mid-tempo to the "Bad Reputation" metal sounds. The melodic and soft keyboard notes from Chris Fayz, who's spent a decade accompanying the band, began a heartfelt "Cryin'" that put goosebumps to most of the crowd. We left the tears behind to sing under the direction of Janet Gardner in "I Want You To Rock Me" to end the of "Pour Some Sugar on Me" by Def Leppard, "Up all Night" Slaughter, "Here I Go Again" Whitesnake, "Paradise City" by Guns N 'Roses and "Every Rose has Its Thorn" by Poison.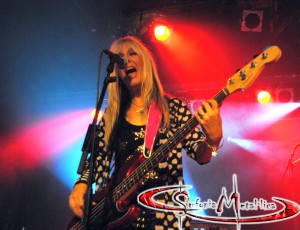 "Not A Minute Too Soon" benefited from Gina and Share choirs, and triggered the first dances old-school from Janet who promised to visit Barcelona again next year. "Next Year no, mañana" literally replied Share. I hope it's true, so we'll be able to enjoy again songs like "Streets in Paradise", with their powerful riffs and vocal delicatessens made in Janet. At this point Vixen was really having fun, and band and crowd fed back the good vibes. The vocalist took the opportunity to rest in the metallized "Rockin 'in the Free World" by Neil Young. Despite being played by three it sounded enormous on stage, even when Share unplugged accidentally Gina's guitar. The guitarist went from 0 to 100 in milliseconds once reconnected to dazzle in one solo from the ground with her partner in the string section.
The reference to Jan K was inevitable, and this came accompanying the keyboards of the awaited and acclaimed "Love Is A Killer". Janet said she was watching us from wherever she is and shout "we love you!" corresponded with a huge applause. It sounded as ever, as always, great.
The nirvanistic beginning of "Never Say Never" rescued the only song of "Tangerine", not out of tune in the repertoire thanks to its guitar-depth. In the bluesy interlude of "Hell Raisers" Share Pedersen simulated she got a call from her mother in which the bassist commented that Vixen were back and they were in Barcelona. Given the alleged unbelief Share recorded video of the audience that circulated through the social media shortly after. Janet's voice became exceptional in this song and its successor, the energetic "Love Made Me".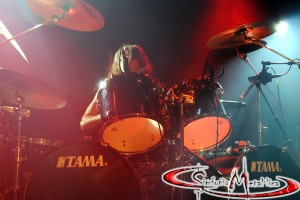 Roxy Petrucci's drum solo was quick, effective and powerful aided by her double bass drums. Their last drumsticks knocks kicked off "Wrecking Ball", sung in a question/answer mode by Janet/crowd, and which Vixen finished the set and disappeared leaving all the audience shouting behind.
The quartet returned to the stage in a few time, enough for Share to change her t-shirt for one of The Dougs D'Amour, where militates her husband Bam (and with whom she played on some turns) to perform the song that catapulted them to fame, "Edge of a Broken Heart", the Richard Marx song that Vixen owe much of their success.
Great melodic-festive climax to end about an hour and a half of concert where we went back to the past through a sweet present with our sights set on a promising future in that at the moment we glimpse a new album and possible tour, as Roxy Petrucci told us in an interview few minutes before the concert.
Shortly after finishing the show the four musicians appeared in the merchandising area to sign all around, and take pictures with anyone who asked. A good example of professionalism and respect for the fans.
The name of Vixen is in good hands. R.I.P Jan Kuehnemund.
Setlist
Rev It Up (Rev It Up!)
How Much Love (Rev It Up!)
Cruisin' (Vixen)
Bad Reputation (Rev It Up!)
Cryin' (Vixen)
I Want You to Rock Me (Vixen)
Not a Minute Too Soon (Rev It Up!)
Streets in Paradise (Rev It Up!)
Rockin' in the Free World (Versión de Neil Young)
Love Is a Killer (Rev It Up!)
Never Say Never (Tangerine)
Hell Raisers (Vixen)
Love Made Me (Vixen)
Drum Solo Roxy Petrucci
Wrecking Ball (Rev It Up!)
Edge of a Broken Heart (Vixen)
Text: Hèctor Prat
Photos: Albert Perera (Simfonia Metàl·lica)
Venue: Sala Razzmatazz II, Barcelona
Date: 27/Sep/2014
Questo approccio Viagra ci ha permesso di agevolare gli utenti grazie all'ampia scelta di metodi Cialis di pagamento offerti da Priligy. Gibt es eine erste Erektionsstörung? Sie sind hier Super Active. Wird der professionellen Beratung im Vertrauen helfen.