Starting as one of the best of the best of the AC/DC tribute bands in Europe, BACK:N:BLACK is known for its explosive stage shows, drop dead good looks and unparalleled musicianship. We talked with BB, the rhythm guitarist and manager for a band unafraid to tackle any era of AC/DC.
Audio clip: Adobe Flash Player (version 9 or above) is required to play this audio clip. Download the latest version here. You also need to have JavaScript enabled in your browser.
"BACK:N:BLACK – The Ultimate All-Girl Tribute to AC/DC". Where did you get the name? Why the dots?
The first singer of the band, Janie, came up with the idea to make it look a bit like WACKEN W:O:A. Back in Black was her favorite song by AC/DC. We all definitely wanted to avoid the cliché names that say that just stress that we are girls. It's hard enough to show we rock first, and are girls second. So we leave the names like "Let There be Girls", "Tush Too Much", "Dirty Dames Done Dirt Cheap" to others…
Of course, it also beats "BNB", which might make us look like a place to stay and get breakfast 😉
Speaking of, as an all-girl band, do you have to fight to prove you can play as well as men?
Yes. It is absurd how incredibly sexist the music world still is today. I mean, Lady Bo played hard rock guitar with Bo Diddley about 500 years ago. Joan Jett did it already in the 70s! I thought it would be pretty normal in 2013 to be a girl in rock, but it still is a novelty. But then again, we are here to rock. We'll leave you to sort out the details!
You must know a lot of girl bands in Europe. It must be cool to have friends all over the world! What is the scene like?
You might be surprised how few girls bands there actually are. But one of the cool things today is how you can make connections with players all over the world. Even if it is hard to find another musician in your neighborhood who wants to rock out like you do, there is a world of rockers out there ready to jump in the fire!
The scene in girl rock is pretty much like any other scene: there are nice people, and there are assholes. It is a bit sad that many girls try to fight against each other while they desperately grasp for the spotlight when they could really benefit from working together. But what can you do? I think MySpace taught everyone that all you need is a picture and an attitude and you're an instant rock star. But like AC/DC says, "It's a long way to the top if you want to rock 'n' roll". This is not just a song title. You have to work hard. Really, really hard. And people forget that the "top" means PLAYING music you love for people who love it too, that's all. The rest is fantasy, hot air and mascara.
Why do you play AC/DC covers when you also play in your originals band D'ANGLERZ? You hardly look like AC/DC!
We play AC/DC because we love the music. We are not AC/DC and never will be. It's about sharing what we love with other people– that adrenaline you feel when you get on stage; that feeling you get when the hair sticks up on your arms when you hear the intro to "Thunderstruck". There are lots of bands that like to dress up as AC/DC copies, but we prefer to be ourselves playing the music as best we can, and pay tribute to the people that got us into music in the first place.
I also like to create, that's why we have D'ANGLERZ. That's the cool thing about music– you don't have to confine yourself to one style or corner of music. Take Slash, for example: everyone knows him as a hard rocker, but he has the courage to play "Le freak, c'est chic". Or AC/DC writing their songs on acoustic guitar. That's balls. That's music.
Looking at videos of your band, you play to huge crowds! How did you get there?
It's true, we have had some incredible opportunities, like playing the same bill as ZZ Top. It's hard to describe the feeling of playing to 5,000 screaming fans! We are very, very thankful for every chance we get, and work very hard to respect everyone along the way.
If we play to 10,000 people tomorrow, we just might play to 10 the next day. So for us, it's all about putting on the best show we can, sweating out every drop of energy on stage, and making sure everyone has a great time, both on and off stage.
BB, I see you spitting blood in some pictures. Are you a vampire?
Yes.
You girls look wild on stage! What happened to good Swiss Misses?
Event though I am Swiss, the band is really not. We come from all over Europe. For us, criteria number one is that you can rock your panties off. Girls who can really play and have fire are far and few between, but we are here. And we are among you.
OK, Yes or no to the following. Have you ever: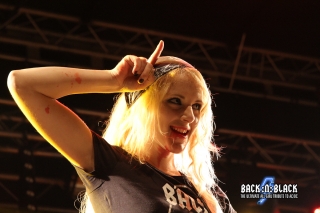 Swallowed a pick:
NO
Set something on fire onstage:
YES
Played in your underwear:
YES
Played so hard your fingers bled on stage:
YES
Fallen down while doing a really cool stage move:
YES
Stood next to Angus and felt tall:
YES
Played for less than 10 people:
YES
Played for more than 5,000 people:
YES
Forced a man to wear fishnets:
YES
Seen a famous rock star naked:
YES
OK, thanks BB. Anything else you want to add for the fans?
Yes. We have been amazed at the incredible support our real fans have shown for us at our concerts and for those who live overseas– on the Internet on our Facebook page. How cool is it to have someone from another continent send in a picture of themselves wearing a BACK:N:BLACK t-shirt, or to have someone hand-draw a poster for us to hang in Guitar Center? It is so inspiring to be able to share some of the passion that we have for the music with people's lives.
We have never met more supporti1ve, loyal, and respectful fans. We owe a huge thanks to AC/DC FOR building this tower and letting us play near it. LET THERE BE ROCK!