Belle Gunness was a mid-tempo thrash act born in the Netherlands in 2004. Their band name coincides with that of a serial killer from Norway, who after seducing men they were killed and feed the pigs. We interviewed the drummer Martine Sipma to know a little more about the band.
Listen to Belle Gunness while reading the interview:
Audio clip: Adobe Flash Player (version 9 or above) is required to play this audio clip. Download the latest version here. You also need to have JavaScript enabled in your browser.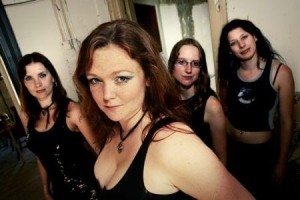 Belle Gunness made solid down-tempo thrash metal, sometimes even with a death/doom edge. How would you describe your music and influences?
You described it well. We usually called our music death/ thrash metal, because that was the most clear and short description. Petra wrote the songs and she was mostly influenced by Pantera's groove and old school death metal bands like Bolt Thrower. The bandmembers each had their own influences in their playing.
One thing that seems to be a constant in your history is the difficulty to retain/find musicians. Finding a female drummer looks like an odyssey.
It sure does. The problem is that there aren't many girls who play an instrument and like to play metal music as well. Finding a drummer, male or female, is always the hardest part. Female drummers are very rare, good female drummers even more and good female drummers who like to play metal are extremely hard to find indeed.
Maaike's departure was the detonator to split up. Was this difficulty to keep a solid lineup the reason to split up after three years? Or was it a matter of your friendship, which made you avoid continuing the route without your friends?
The impossibility of finding suitable musicians was the main reason for us to split up. We struggled three years trying to find a stable lineup of good and motivated female musicians and it just didn't seem to be realistic.
Friendship existed between almost everybody who once was a part of Belle Gunness. This friendship made it sometimes hard to communicate about the band. One can imagine how hard it is to have to tell a friend who is also a bandmember that they aren't functioning well within the band, for example.
So being an all-female band is not an easy job. Had you ever thought of leaving the all-female condition and hire male musicians?
We did consider it, when we had had another drummer-disappointment. But we felt that the concept of an all-female metal band was really strong and we wanted to prove that it could be done. We were wrong in the end, obviously.
Judging your name, it seems that men were not welcome to the formation 😉 Belle Gunness was a woman who killed men after seducing them, to later give their meat to the pigs.
This makes it sound like we all hate men. We don't hate men. Not all of them, anyway. 'Belle Gunness' was just a really suitable name for an all-female metalband, for the exact reasons you just described. Most metal bands have names that refer to something or someone evil so we were just continuing the tradition.
Let's talk about your demo. Is it your only release? And how was it's media/fans feedback?
The demo, consisting of the two tracks 'Everywhere' and 'Defend Yourself', was our only official release. It was only released online, we didn't make any CDs. They were just two tracks recorded for promotion. We weren't extremely satisfied with the result, one of the reasons being that we were about to replace the drummer that played on those tracks.
We didn't send it to mags for reviewing or anything. Afterwards we discovered that some websites like yours, dedicated to female metal bands, picked up the demo and reviewed it. Those reviews were all positive.
Do you think you got the media attention you deserved, or is it difficult to shine among all the bands showing up in the music business and on the internet?
We didn't get that much media attention, actually. It's just until recently that we've realized we have reached a certain cult-status in the underground metal scene. When we were active as a band, most people in the scene had heard from us because we were an all-female band. That's the only reason we stood out, really. Most people liked us because we are female, not so much because of the music. We only did one interview once for a music weblog but that was never published, since the band split up shortly after.
Did the demo collect all Belle Gunness material, or are there any songs that haven't seen the light?
In the end, we had a repertoire of six of our own songs and two covers. We did record five of our songs with the last line-up, but those were never mixed or finished. The last song we were working on only had a working title: 'The Goat'.
And were there enough to perform a setlist entirely made up of your own material, or did you complete it with some covers? In this case, which?
We actually did gigs with a setlist containing only four songs, in the beginning. We played one of them twice, as an encore. We're women, so we could get away with that. 😉 We played two covers: Corporal Jigsore Quandary by Carcass and Bodycount by Morgoth. The Carcass song never left the rehearsal room 'cause we still needed a lot of practice on that one. We did play the Morgoth song live, which was always a great success.
Did you have a busy gig schedule? Any highlight, the show you have best memories about?
We did quite a lot of gigs, especially when you take into account that we didn't have that many songs to play. Venues booked us because most people in the scene liked to see us play. After all, they could look at five pairs of boobs on stage. 😉 Our shows got better when we played more of them. The show in Eibergen, August 2007, was a particularly nice one. It was the debut of our new (and last) line-up, with Martine having switched from bass to drums and Maaike as a new member on bass. Our final show in Ede was also quite memorable. We always got a lot of support from a certain group of friends and they were all there that night, which was great.
And what about your lyrics, who was responsible for them and what did they talk about?
Anita wrote the lyrics. She works as a nurse on a psychiatric department in a hospital and got a lot of inspiration for lyrics from it. The songs were mostly about psychiatry, disorders and stuff.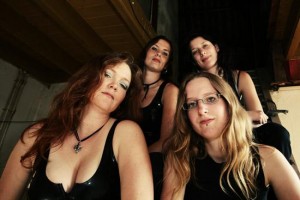 What are the whereabouts of the Belle Gunness girls nowadays, are you still related to music business?
Hell yeah! We are all still active in music. After Belle Gunness, Anita joined melodic death/thrash band Why She Kills (www.myspace.com/whyshekills) . They recorded an EP 'Daydreams of Obliteration' and did a lot of shows, including the Jägermeister Dutch Demolition Tour with Izegrim and Sin7Sins. The band split up a while ago. Maaike is now the bassplayer of black/thrash metal band Irmin (www.myspace.com/irminlegion). They recently released a promo: 'The Summoning' which received positive feedback from the metal community. Petra plays guitar in industrial metal band Deadcell (www.myspace.com/deadcellband). Their latest album is called 'State of Fear' and they play shows all over the world. Right now they're playing the Jägermeister Dutch Demolition Tour with The Monolith Deathcult and The Lucifer Principle. Petra is intrinsically a death metal guitarist, she also plays in the oldschool death metal band SoulreaveR (www.myspace.com/gastornis). They are busy trying out new second guitarists and preparing to play some shows again. Martine now studies bassguitar at the Rotterdam Conservatory and plays bass in melodic death/thrash metal band The Dead Normality (www.myspace.com/thedeadnormality). They have recently reached 2nd place in the Dutch Metal Battle and are now continuing in the Wacken Metal Battle. Their debut EP 'Killing Reality' will be released this year (2009).
And is there any possibility of reunion? Are you still receiving messages regarding this subject?
As we said earlier, we've only recently realized that we are kind of a cult band in the underground metalscene. After the split-up, we still received a lot of messages from people all over the world, which is very cool. We still see eachother regularly and sometimes we jokingly talk about a reunion of some kind, but it's not something that will happen in the near future. We're all too busy with our own bands and personal lives at the moment.
If you could turn back in time, what would you change to keep Belle Gunness alive, anything you regret of?
We don't think we would've changed much. The problem of finding the right members would've remained so we'd have to quit eventually, no matter what. That's the price we paid for wanting to keep the concept of an all-female metal band intact. We still wouldn't change that concept.
Tell those who didn't know you what they were missing.
An all-female metalband, that's all there is to say. That was what made us stand out. People were always more interested in the fact that we were women than in the music itself, which some of us still find a bit annoying. Ofcourse we did use that concept to the max, it was after all the main reason why we got as many shows as we did and why we are still known by some today.