Con un estilo marcado por la combinación de gótico y black metal, las portuguesas Black Widows llevan unos diez años peleando por ganarse un puesto en la escena. Rute Fevereiro nos habla sobre la historia de la banda y su situación actual.
Escucha Black Widows mientras lees la entrevista:
[audio:http://www.metaladies.com/wp-content/uploads/2008/12/black-widows-awaken.mp3, http://www.metaladies.com/wp-content/uploads/2008/12/black-widows-in-dearing.mp3, http://www.metaladies.com/wp-content/uploads/2008/12/black-widows-in-death.mp3, http://www.metaladies.com/wp-content/uploads/2008/12/black-widows-lifes-wish.mp3, http://www.metaladies.com/wp-content/uploads/2008/12/black-widows-take-me-within-you-sample.mp3]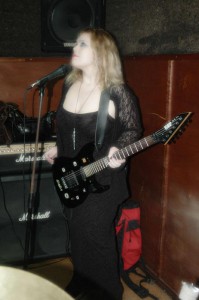 Hola Rute, gracias por atenderme. Primeramente, ¿cuál es el estado actual de Black Widows? ¿Trabajando en nuevo material, tocando en conciertos?
Black Widows está trabajando y preparándose para grabar un nuevo EP. Tenemos nuevas canciones, nuevos componentes y estamos centrados en escribir canciones. Ha habido algunas invitaciones para tocar en directo, y hubiéramos tenido que aceptar algunas, pero de momento nuestra principal prioridad es el álbum.
Han pasado casi siete años desde vuestro último álbum, "Sweet… The Hell". ¿Qué ha estado haciendo el grupo desde entonces?
Bien, lamentablemente tuvimos que cambiar de componentes unas cuantas veces y nos ha robado un tiempo precioso. Pero ahora somos tres mujeres y dos chicos magníficos que empezaron como músicos invitados pero que fueron "secuestrados" para formar parte del grupo 😛
Así que ya habéis desistido de la búsqueda de una batería.
La búsqueda ha acabado. Ahora tocamos con João Monteiro, un gran batería que toca realmente fuerte, como el infierno. Espero no decepcionar a nuestros fans, pero de momento nos mantenemos como un simple grupo de metal con solo buenos músicos.
Por tanto, si bien en el pasado os declarabais un grupo femenino de metal, contratando a baterías de sesión, ahora habéis abandonado este concepto.
Es difícil encontrar a buenas músicos en Portugal. Normalmente tenemos que esperar a que aprendan a tocar bien. Así que decidimos que la prioridad para el grupo era tener buenos músicos independientemente de su género.
Os habéis mantenido mucho tiempo como una formación femenina. ¿Cuáles han sido las ventajas y desventajas de tomar esa decisión?
Bien, fue en 1995. Creo que era muy interesante explorar la creatividad femenina, que es diferente de la creatividad masculina. Ambas son buenas y bonitas. Esta es la parte buena. Por supuesto un grupo íntegramente femenino consigue llamar más la atención, aunque la mayor desventaja es encontrar buenas músicos. Hay pocas mujeres tocando aquí. No es fácil…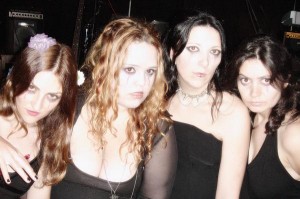 Quizás este ha sido el problema principal para mantener una formación sólida, y el motivo por el que por Black Widows han pasado como mínimo trece componentes.
El problema, como he comentado, es encontrar músicos femeninos profesionales. Algunas no tocan muy bien, no se lo toman lo suficientemente en serio. Por desgracia tenemos que aceptar los hechos y continuar con una gran formación.
Pasemos a definir vuestro estilo. Es básicamente metal gótico combinado con algunos elementos black. ¿Estarías de acuerdo?
Sinceramente, creo que soy la última persona capaz de responder a esta cuestión. Definitivamente es metal, pero aparte de esto no puedo concretar más. Invito a nuestros fans y oyentes a dejar un comentario en myspace acerca de lo que piensan sobre esto.
Vuestra música combina tres tipos de voces, black, limpias y operísticas. ¿Cantas tú las tres?
Sí, jaja, ¡soy la versión femenina de King Diamond!
¿Qué intentáis transmitir con vuestras letras?
Hablan de muerte y de vida después de ella. Estoy obsesionada con estos temas. También hablan sobre el sentido de la vida y mis experiencias y sentimientos.
Es un hecho que las bandas más conocidas de Portugal, como Moonspell, tienen un toque oscuro. ¿Tiene Portugal una potente escena gótica?
Sí, creo que sí. Hay un montón de fans del metal a los que también gusta la música gótica. Hay también un gran número de bandas con influencias góticas.
Hay muchos grupos de metal gótico que están cosechando grandes éxitos, como Lacuna Coil, After Forever, Epica … Todos ellos distintos musicalmente, pero con una base gótica. ¿Qué le falta a Black Widows para llegar a ser tan popular como ellos?¿Qué pasos seguirías para conseguir sus logros?
Creo que hay varios pasos, como: buenas canciones, una imagen atractiva, un manager que trabaje duro, un sello discográfico bien conocido, y mucha muchísima promoción. Es la única manera, me temo…
La historia de Black Widows ha pasado por dos momentos duros, en 1999 y 2004, que por distintas razones llevó al grupo a la separación. Pero en ambos casos has vuelto, nunca te rindes.
Exacto: Nunca me rendiré. Mucha gente me quiere ver abatida o dejándolo correr. Tengo un mensaje para ellos: ¡NO ME VAIS A HACER CAER!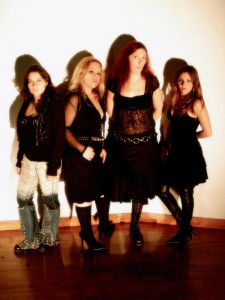 ¿Cuál es la salud y el sentir del grupo ahora? ¿Cuáles son vuestras esperanzas para el futuro?
Estamos muy emocionados con la grabación de nuestras nuevas canciones, y esperando las reacciones de la gente en referencia a ellas y al cambio de miembros. ¡Tienes el privilegio de ser el primero en saber todo esto!.
Durante una de estas pausas en Black Widows empezaste con el nuevo proyecto EnChanTya. ¿Cuáles son las similitudes entre ambos grupos? ¿Son grupos complementarios o fue un substituto?
Ninguna de las dos cosas. Creé EnChanTya para poder tocar en un estilo distinto, que no podía tocar en Black Widows, porque entonces no encajaba. Afortunadamente los chicos "enchanted" contribuyeron mucho en la creación de nuevas canciones o mejorando mis canciones, y el resultado fue sorprendentemente bueno. No puedo encontrar similitudes entre EnChanTya y Black Widows, pero definitivamente puedo centrarme más en mi actuación vocal en EnChanTya porque no tengo que tocar la guitarra en este grupo. Estamos grabando nuestro álbum debut, así que te podrás forjar una opinión a finales de año, que es cuando el álbum será publicado.
¿Tenéis la agenda de conciertos llena? ¿Existe un buen circuito de salas en Portugal?
No mucho, estamos centrados en grabar. En Portugal hay algunos bares, especialmente cerca de Lisboa y Oporto. Y hay algunos festivales de verano e invierno. Me gustaría conocer más sitios donde tocar…
Para cuando volváis a pisar los escenarios. ¿Qué podemos esperar de un concierto de Black Widows?
Bien, seguro que desataremos el infierno… Así que, si os gustan las canciones del álbum, venidnos a ver, seguro que os haremos mover la cabeza. Yo seguro que lo haré.
Gracias y ¡Suerte con tus proyectos varios!
Gracias a ti por la entrevista. With a style marked by the combination of gothic and black metal, the portuguese Black Widows has been over ten years fighting to gain a spot in the scene. Rute Fevereiro talks about the band's history and current whereabouts.
Listen to Black Widows while reading the interview:
[audio:http://www.metaladies.com/wp-content/uploads/2008/12/black-widows-awaken.mp3, http://www.metaladies.com/wp-content/uploads/2008/12/black-widows-in-dearing.mp3, http://www.metaladies.com/wp-content/uploads/2008/12/black-widows-in-death.mp3, http://www.metaladies.com/wp-content/uploads/2008/12/black-widows-lifes-wish.mp3, http://www.metaladies.com/wp-content/uploads/2008/12/black-widows-take-me-within-you-sample.mp3]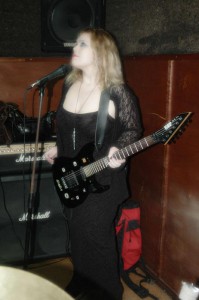 Hi Rute, obrigado for attending me. First of all, which is the current Black Widows status? Are you working in new material, playing some gigs?
Hola Hector, I'm sorry if I'm only answering you now. But I have been extremely busy in studio, and rarely have some free time. Now my time is all for you and the interview! Black Widows are working and getting ready to record an EP. We have new songs, new band members and we are focusing now on writing songs. There has been some invitations to play live, and we might accept some, but for the moment, our main priority is to record.
They've passed almost seven years since your last record, "Sweet… The Hell". What has the band been doing since then?
Well, unfortunately we had to change members for a few times and that has taken us some precious time. But for now we are settled for three female members and two awesome boys who have started as guest musicians but were 'kidnapped' to be part of the band.:P
And still searching for a permanent female drummer. How is the search going?
The searched has stopped. We are playing with João Monteiro, an awesome male drummer who plays really loud, like hell. We hope not to disappoint our fans but for the moment we are standing as a simple metal band with just good musicians.
You've always kept Black Widows as an all-female metal band, hiring male drummers as session musicians. Is Black Widows intented to be an all-female band, is part of the concept?
Well, I think I answered this one in the question before. It's hard to find good female musicians in Portugal. Usually we had to wait for them to learn to play well. So we've decided that the priority was for the band to have good musicians regardless the gender.
And why did you decide to create an all-female band? Which are they profits and disadvantages?
Well, that was in 1995. I think that it was very interesting to explore the female creativity, which is different from the male creativity. Both are good and very nice. That is the good part of the question. Of course that an all female band draws more attention upon the band, however the big disadvantage is to get professional female musicians. There are a few number of women playing here. It's not easy…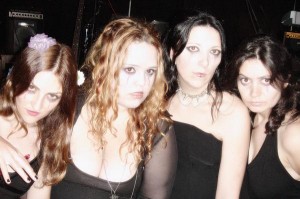 In Black Widows there have passed at least thirteen musicians. Why is it that difficult to keep a solid lineup?
As said, the problem of getting professional female musicians. Some don't play well enough, don't take this seriously enough. Unfortunately we have to face the facts and move on with a good band.
Let's try to define your style. Is mainly gothic metal combined with black elements. How would you describe Black Widows music?
Honestly, I think that I am the last person capable of answering this question. It is definitely metal but apart from that I cannot define. I invite our fans and listeners to leave a comment on myspace about what they think of this!
Your music combines three kinds of voices, black, clean and operatic. Do you sing the three of all?.
Yes, lol, I'm a female version of King Diamond! LOL.
And what do you lyrics talk about, trying to transmit?
Death and life after death. I'm obsessed about these issues. They also talk about the meaning of life and my experiences and feelings.
It's a fact that the best known Portuguese bands, as Moonspell have a dark edge. Has Portugal got a strong gothic scene?
Yes, I think so. There are lots of metal fans that also like gothic music. There are also some good bands with gothic influences.
There are many successful bands playing gothic metal, as Lacuna Coil, After Forever, Epica … All of them different musically, but as you with a gothic basis. What do you thing is left for Black Widows to become as popular as them? Which is the next step?
I think that there should be several steps, such as: good songs, catchy band image, a hardworking manager, a well known record label, and lots and lots of promotion. This is the only way, I'm afraid…
Black Widows history has undergone two bad moments, in 1999 and in 2004. By different causes, they led to the band to stop working. What made you decide to retake the band again in both cases? You'll never surrender.
Exactly: I'll never surrender. Many people want to see me down or quitting. I have a message for them: YOU CAN'T BRING ME DOWN!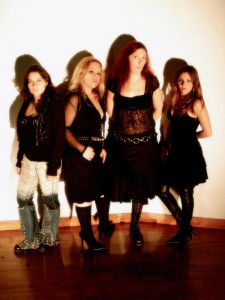 And how is the band health and mood now? Which are your expectations for a near future?
We are excited to record the new songs and also expecting the reactions about the songs and the band's change of members. You have the privilege to be the first to know all this! ( just to make you up for such delay in answering this interview).
During one of this stops you started EnChanTya. Which are they similarities with Black Widows? Is it a complement or a substitute?
None of those. EnChanTya was created by me to be a band to play a different style that I could never play in BW because it didn't fit at that time. Fortunately, the enchanted boys also contribute a lot in creating new songs or improving my songs and the result has been surprisingly good. I cannot find similarities or differences between EnChanTya and BW, but I definitely have the chance to pay more attention to my vocal performance in Enchantya as I don't play guitar in this band. We are recording our debut album at the moment and you can make your opinion in the end of the year, when it will be released.
Have you got a busy gig schedule? Is there a good concert circuit in Portugal?
Not really, we are focusing on recording. In Portugal, there are some bars, especially near Lisbon and Oporto. And there are some summer and winter Fests. I'd like myself to see more places to play…
Tell the reader what is worth to go and check one of your concerts.
Well, we will surely unleash hell…So, if you like the songs and the album, join us, and I'm sure you'll headbang a lot. I'll surely do.
Thank you so much for answering, goof luck with all your projects!
Thank you for the interview.