Candy is an alternative metal band, or a modern rock act as they like to call themselves. They are coming out from Malaysia, and are active since 1992.
Candy was born in 1992. How did it all begin?
Well, it started even before that. As an early teenager, Mary's father taught her to play guitar, she then bullied her sister Connie into playing the biscuit tins for accompaniment and they had a friend who could play keyboards and another who was made to play bass, it just started from there, various members got replaced in the early days, it just happened we were all girls. We started playing in Sarawak as Sapphire Gals then G-Saphia. When we first moved to Kuala Lumpur from Sarawak, we didn't know what to call ourselves…the recording company wanted a commercial name which can easily be remembered. I got the idea on the name Candy when we watched the Archies singing Sugar Sugar on tv. We thought of Candy Girl, then we decided to stick with just Candy. Candy suits us….sweet but hard, right?
And what is the band status right now, what is Candy involved in today?
We have completed our album "Absolute" and are now starting to play some smaller gigs, building back up to the larger ones and a possible tour. We are also negotiating a distribution deal locally with a major label – although we will remain independent. Our album is already available internationally by post or download from cdbaby in the USA, ( http://cdbaby.com/cd/candymalaysia) mp3's will be available from other outlets such as iTunes, rhapsody, napster etc. soon.
But it was not until 1997 that you released your first self titled album, "Candy". Which was Candy's activity during this first five years of history?
We were playing shows in Sarawak – which is the Malaysian part of Borneo, (and had day jobs too!) our first manager discovered us and bought us over to Kuala Lumpur to make our first album and we never went back (except for holidays!!)
"Candy" release went pretty well, 60.000 records sold and a platinum album. You travelled to Singapore and Indonesia, and then you were one of the nominees for "Best New Artiste" in "Anugerah Industri Muzik" in 1998, the Malaysian grammys. Were you surprised with such this feedback, how do you recall this days?
If you had told us a year before hand, we would never have believed you!! we'd never have dreamed it. But as it happened, it was a progression, kind of like a snowball rolling down a mountain. We hit some rocks, and bits fell off, but in general one thing led to another and although we were always delighted and excited as new things came along, it wasn't so much a suprise..like I said it was a progression.
What do you mean "bits fell off?"
Well, most of the time things were going really well, we'd be in TV studios, radio interviews, then suddenly we'd end up in a muddy field playing through a lousy sound system at a fair ground, I guess to say bits fell off isn't really fair because it gave us a great opportunity to meet the fans, but after the comfort of TV studios, and the luxuries of the Indonesian tour, the fair grounds were a stark contrast, but well worth doing.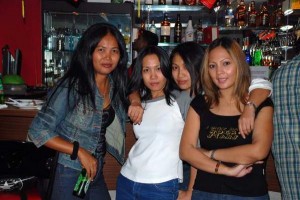 And then it came the "Hot" EP, but it took ten years for you to release the next album "Absolute… Candy". Why? What happened in these ten years?
We were playing for most of it, but not so often. We changed bassist and then manager and so things were pretty quiet for a while, Pat and Mary got married, but that didn't stop them! Then Nancy the bassist re-joined and for the last two years we have been working on the album, we originally thought it would take 6 months!
In "Absolute… Candy" you decided to produce and compose everything yourself. Weren't you satisfied with the past albums? Or was it just a matter that you felt like doing it yourselves to do it completely your way, absolutely… Candy?
The first album, we were completely happy with, the second album we liked, but we were pushed to a heavier sound than we wanted, and as it didn't sell as well, we assume the fans preferred the first album. So this time we wanted to do what WE wanted to do. We had been quiet for a long time and so we didn't have to build on the last two albums, we could do what we wanted. For instance would never have been allowed to do a three four time by a record company on a rock album!! As it happens the first album is more our style, so the poppy song "Kerana Dia" does have a similar feel to "Akkanku Tunggu"..but that is part of our style, so no apologies.
Your sound differs from song to song, but it keeps a hard rock basis, sometimes a bit alternative, sometimes poppy and sometimes a bit heavy. How would you define your sound?
(Laughing) I'm glad the hard rock basis comes through!! Guitar oriented songs are our favorites. To answer your question – There are a couple of reasons for that. The first is that we all wrote at least one of the melodies, so our individual taste comes out and contrasts. We are a rock band and we like rock and we like heavy….. but we also like melody, Connie for instance wrote the ¾ which is not really rock, but with the lead breaks in it I think it qualifies!! The second reason is that if you expect people to listen to an album from beginning to end, you need variety, especially these days when people tend to hit shuffle on their ipod and get completely contrasting songs one after the other, or buy compiltion albums, going back to the 70's these didn't exist (as far as we know) so people were happy to listen to a complete album. Times have changed.
In your music we find the alternative edge, some pop, even heavy flashes. Which are your main influences?
As you said the sound differs from song to song, and our influences are also quiet diverse, from Deep Purlpe, Iron Maiden, Metallica, The Killers, Joan Jett to Avril Lavinge to Sheryl Crow, Alanis Morissette…and many more.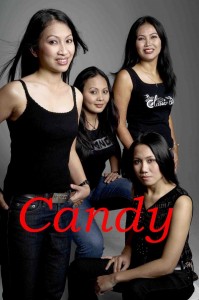 You come from Malaysia. How is its metal scene, is it easy for a metal band to get the media and fan attention?
The metal scene has die hard fans, but is very much underground, it is rare to see metal on TV. Hence there are a few magazines catering to it, but not the main stream.
Is there any problem to get a busy gig schedule in your country?
There are not as many outlets that have live music as there used to be, and of course not everyone likes rock (one day they'll see the light!) but when we play we get a great response. There are plenty of offers to do a three month booking at a hotel or bar, but we're not that kind of band, we want to play our stuff and the covers WE like, and that is what our fans like so we do a night here, a night there etc. maybe once a week or once a month in the same place.
And are you pioneers in being an all-female band in your country? I think you entered the Guinness book of records because of this. Is there any other Malaysian all-female band following your steps?
Actually it was the Malaysian Book of Records. Female bands-There have been a few over the years, but none of them lasted long.
And why did you decide to be an all-female band. Was it on purpose, you deliberately wanted to make a female band? Or was it just a coincidence?
More coincidence. Having made a name for ourselves we had to stay all girl, which is fine with us.
Do you think that being an all-female act opens you some doors? It makes it easier to attract new fans?
Definitely it opens doors, but if you don't have the ability once the door is opened…it will be shut firmly again. It gives us an opportunity….like a good CV will get you the job interview, but you still have to prove yourself at the interview. I am not sure if it makes it easier to attract new fans, probably a bit. The guys of course, and quite often the girls seem to feel proud , I don't know, a kind of 'girl thing'
Which are your real expectations for the future?
We would of course like the album to be a success, we would like to tour internationally, or at least get the opportunity to play in other countries. Then release another album. We would like to be well known outside Malaysia for our own satisfaction, and also to let people know that there are good talents in Malaysia, it is a country that probably doesn't spring to mind when you think of music.
Tell the readers why they should check Candy
I think as you mentioned earlier, there is a variety of tracks on the album ranging from almost pop to almost heavy (at least the guitar breaks!!) but with a common hard rock theme and with melody, so if you like rock, and you like melody – please check it out.