Este trío femenino se formó en 2005 bajo el nombre de Dopegirl. Publicaron un álbum y cambiaron su nombre por Fates Fury, más acorde con su actitud. Metaladies habló con ellas acerca del grupo y su próximo álbum.
Escucha Fates Fury mientras lees la entrevista:
[audio: http://www.metaladies.com/wp-content/uploads/2009/04/freaks.mp3, http://www.metaladies.com/wp-content/uploads/2009/04/kiss.mp3, http://www.metaladies.com/wp-content/uploads/2009/04/lie-2-me.mp3, http://www.metaladies.com/wp-content/uploads/2009/04/lookin-for-some-action.mp3, http://www.metaladies.com/wp-content/uploads/2009/04/on-and-on.mp3, http://www.metaladies.com/wp-content/uploads/2009/04/shades-of-grey.mp3]
Para empezar, creo que estáis en proceso de grabar un nuevo disco. ¿Cómo van las cosas?
Las cosas están yendo muy bien, estamos muy exaltadas con el nuevo material y con muchas ganas de que salga el nuevo álbum.
Será el primero bajo el nombre de Fates Fury, pues antes os llamabais Dopegirl. El cambio de nombre parece como un renacimiento del grupo. ¿Cuán importante ha sido este cambio para vosotras?
Extremadamente importante. El otro nombre era un nombre antiguo para un grupo antiguo. Esto es algo en lo que estuvimos todas de acuerdo y que nos representa a cada una de nosotras.
Fates Fury es un trío femenino. ¿Se pensó que fuera así desde el principio? Ambos aspectos, el de ser tres y el de ser todo mujeres.
No, no se planeó desde el principio pero simplemente hemos acabado así. Todas hemos tocado con otra gente, tanto chicos como chicas, pero solo haciendo un poco de jam. Y a medida que nos fuimos uniendo fuimos cada vez más insistentes en mantenernos como un trío.
¿Creéis que ser un grupo íntegramente femenino os abrirá más puertas que os cerrará?
Sí, absolutamente. Creo que siendo chicas puede ayudar, pero por encima de todo es nuestra música será la que abra la puerta.
Estáis trabajando duro para daros a conocer en vuestra ciudad. Pero estamos hablando de Los Angeles y su dura escena.
La escena musical es dura en general, pero hasta ahora nos ha ido muy bien en L.A. Todos nos han mostrado su apoyo y nos han hecho sentir como en casa encima del escenario.
Porque vivir en una ciudad como la vuestra tiene sus pros y sus contras. Tenéis infinidad de recursos para exponer vuestra música, pero a la vez hay una cantidad enorme de grupos corriendo en la misma carrera. ¿Cuál es el mejor truco para brillar sobre todos ellos?
Creo realmente en somos nosotras mismas. No hay trucos realmente. Subimos al escenario y hacemos rock lo más fuerte que podemos. Somos simplemente tres chicas en tejanos que suben al escenario y tocan, sin trucos. Todo es una cuestión de amar lo que estamos haciendo, algo que se transmite a nuestra manera de tocar.
Volviendo a la escena angelina. ¿Cuál es su salud hoy en día? ¿Qué queda aún de sus años dorados?
Está bien. Aún hay un puñado de grandes sitios donde tocar y juntarse con algunas antiguas rock stars. L.A's badass! Pero sí, es muy distinto a como era entonces. Creo que hay muchos grupos muy preocupados por su imagen, intentando ser como todo los demás, lo que hace que no consigan mantenerse. Antes los grupos tenían una imagen propia y se lo pasaban mucho mejor, en vez de comprar el look en Hot Topic y tomarse a sí mismos demasiado en serio.
Vuestra música parece encajar perfectamente allí. Con raíces punk, una base hard rock con un toque metalero, y un predominante sentido de la melodía. Completad o corregid la descripción.
Fates Fury para nosotras es Oscura & Sexy, un toque melódico y el espíritu del punk rock acaba de dar el tono.
¿Cuál es vuestra base musical? ¿Y vuestras principales influencias?
Hemos tocado y ensayado con muchos músicos a lo largo de los años…Nuestras influencias son, vocalista: Concrete Blonde/Garbage, batería: Ramones/Foo Fighters, bajo: Danzig/Type O Negative.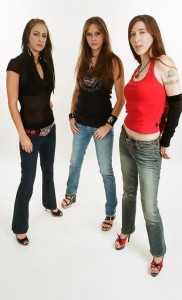 ¿Qué intentan transmitir vuestras letras? En vuestro segundo álbum son más oscuras, ¿por qué este cambio?
Nuestras letras hablan realmente de nosotras y nuestras experiencias. Muchas veces hablamos de algo que es importante en nuestras vidas y Jerrica lo convierte en canciones. Pero creo que todas añadimos un poco de cada una en las letras. Las letras y música más oscuras es algo que quisimos desde el principio. Tenemos nuestras raíces metal/punk y ahora que hemos madurado en nuestra manera de componer creo que la música acabará siendo exactamente de la manera que queremos.
¿Qué nos podéis avanzar de este segundo álbum? ¿Distará mucho de vuestro debut?
Del segundo álbum puedes esperar mucha más madurez en música y letras. Con el primero solo queríamos tenerlo acabado y tener algo para demostrar que podíamos hacerlo. Ahora estamos más centradas en la música y conseguir que salga tal y como queremos que salga.
Teneis un perfil en MySpace. ¿Es Internet tan importante como salir a tocar, en cuanto a medio para daros a conocer?
Sí, Internet es extremamente importante. Tenemos acceso a miles de personas con las que no habríamos hablado ni con las que nos podríamos haber promocionado. Hacemos un gran número de contactos online, e Internet es esencial para mostrarnos a las masas.
¿Cuál son los planes para vuestro futuro cercano, el siguiente paso que vais a dar?
Nuestrp siguiente paso es grabar este álbum, tocar algunos shows en nuestra ciudad y luego intentar traspasar estos límites y salir al exterior. Esperamos salir de gira y tocar mucho más fuera de Los Angeles.
Explica a los lectores por qué Fates Fury es un grupo al que dar una oportunidad.
Fates Fury es… Solo tres músicos que han resultado ser chicas y van detrás de los mismos objetivos: Pasar un buen rato, representar de donde venimos y ROCKEAR!
Lee más sobre Fates Fury
Christina Poison @ Metaladies.comThis female trio was formed back in 2005 as Dopegirl. They released and album, but changed the name to better fit with their actitude. Metaladies talked to them about the band and their next album.
Listen to Fates Fury while reading the interview:
[audio: http://www.metaladies.com/wp-content/uploads/2009/04/freaks.mp3, http://www.metaladies.com/wp-content/uploads/2009/04/kiss.mp3, http://www.metaladies.com/wp-content/uploads/2009/04/lie-2-me.mp3, http://www.metaladies.com/wp-content/uploads/2009/04/lookin-for-some-action.mp3, http://www.metaladies.com/wp-content/uploads/2009/04/on-and-on.mp3, http://www.metaladies.com/wp-content/uploads/2009/04/shades-of-grey.mp3]
First of all, I think you are in the process of composition/recording of a new record. How are the things going?
Things are going great, we're so hyped about the new material and really looking forward to the new album.
This will be the first under the name of Fates Fury. The name change seems like a band's rebirth. How important has been for you?
Extremely important. The other name was an old name and an old band. This is something we all came up with and something that represents all of us.
Fates Fury is an all-female trio. Was it intended to be like this since the beginning? Both aspects, all-female and three musicians?
No, it wasn't planned from the beginning it just ended up that way. We have all played with other people, male and female, but just jamming around. And as we got tighter we were pretty insistent on keeping it a power trio.
Do you thing being all-female will open you more doors than it will close?
Yes absolutely. We do think being chicks could help, but overall our music will be the door opener.
And you are working hard to make you be known in your city. But we are talking about Los Angeles and its scene, a tough one. Is it working out?
Music scene is tough in general, but so far it's been pretty good in L.A. Everyone has really been supportive and made us feel right at home on stage.
Because living in a city like yours has its advantages and inconvenient. You have plenty of resources to expose your music, but there are lots of bands running the same race. Which is Fates Fury best trick to shine among it all?
I really believe that we are just ourselves. No tricks really. We go up there and rock as hard as we can. We're just three girls in jeans that get on stage and pour it out-straight forward, no gimmicks. It's all about loving what we do and it shows in our playing.
How is the LA scene health nowadays? What's left from their golden years?
It's good. There's still a lot of great places to play and hang out and see some old rock star buddies. L.A.'s badass! But yes it's a lot different from the way it used to be. I think a lot of bands are too worried about their look, trying to be like everyone else out there which doesn't make them stand out. Back in the day bands had a look of their own and had more fun with it as opposed to buying the 'look' at Hot Topic and take themselves way too seriously.
Your music sounds like fitting pretty well there. With punk roots, a hard rock basis with a metal edge, and a predominant sense of melody. How would you describe Fates Fury music?
Fates Fury to us is Dark & Sexy, a melodic edge and punk rock vibe really sets the tone.
Which is the musical background of you three? And your main influences?
We have all played and trained with many musicians during the years…Our influences are: Vocals: Concrete Blonde/Garbage, Drummer: Ramones/Foo Fighters, Bass: Danzig/Type O Negative.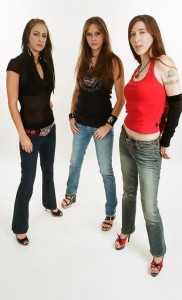 And what are your lyrics trying to transmit, what are them about? They are turning darker in your second release.
Our lyrics are really about us or our experiences. A lot of times we talk about something significant in our lives and Jerrica translates them into songs. But I think we all add a bit of ourselves to the lyrics. The darker lyrics and music is something we have wanted to do from the beginning. We have our metal/punk roots and now that we are more matured in our writing I think the music will now come across exactly how we want it to.
What can you advance from this second one? Will it be much different from your debut album?
From the second album you can expect a lot more growth in the music and lyrics. Our first one we just wanted to get done and have something to show we could do. Now we are a lot more focused on the music and making it come across exactly how we want it.
You've got a MySpace profile. Is it internet as important as to go out and play to promote yourselves?
Yes the internet is extremely important. We have access to thousands of people we would of never gotten to talk to and promote to. We made quite a lot of contacts online and the internet is essential for getting yourselves out to the masses.
Which are your plans for the near future, the next step Fates Fury will do?
Our next step is to record this album, play some shows in town and then start reaching outward bound. We hope to go on tour and play a lot more outside of L.A.
Tell the readers why Fates Fury is a band worth to give an opportunity.
Fates Fury is…Just three hard working musicians that happened to be girls and are after the same goals: To have a good time, represent where were coming from and to ROCK!
Read more about Fates Fury
Christina Poison @ Metaladies.com
Cialis preise in Deutschland https://vclpilules.com/viagra.html Cialis Generika 20mg kaufen in Deutschland. Il Sildenafil, il tadalafil e il Hier devono essere usati con cautela in caso di malattie cardiovascolari