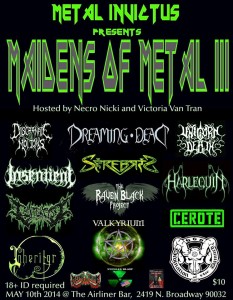 Metaladies.com is proudly sponsoring Maidens of Metal, the festival celebrating and encouraging females in extreme music is about to celebrate its third edition. It will be host at The Airliner Club, L.A. on Saturday, May 10.
As usual, it will showcase extreme metal bands which feature highly skilled female members in their ranks. This is the roster so far (in alphabetical order): Cerote, Clitorcyst, Discarnate Motions, Divination of the Damned, Dreaming Dead, Harlequin, Inheritor, Insentient, The Raven Black Project, Syrebris, Unicorn Death, Valkyrium
Cerote is here to write offensive music against the World, playing crossover 80's Thrash Hardcore Punk
"Clitorcyst" consists of musicians from various bands of the Los Angeles metal scene. Members of Servile Conceptions, Harlequin and Necronum have united to create this exermental project in hopes of contributing a new sound to the death metal genre.
Metal entwined with ethereal melodies
Black metal band formed by warriors who use a combination of music and magick as weapons, anti-cosmic soldiers fighting an ancient battle.
Dreaming Dead is Los Angeles' answer to underground mediocrity and mainstream banality. Formed in 2006 by frontwoman Elizabeth Schall and drummer Mike Caffell.
All-female metal band, consisting of musicians with tastes that differ greatly in the spectrum of metal/rock music
Colombian-American Melodic Metal band Based in Los Angeles, CA
Los Angeles based blackened death metal
The Raven Black Project started as just that! A Project which is FAST and rising in the SoCal Metal Scene. Classic and Hard Rock influences underlying a NEW and heavy sound for today's Rock Fans.
Progressive death metallers, Syrebris is a 4 piece american band based in Los Angeles, CA.
Unicorn Death is a Symphonic Metal from San Diego, California.
Valkyrium is an American mystical pagan metal band with a melodic edge based out of Los Angeles, CA.