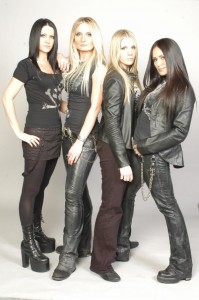 Scarlet Sins ha anunciado su final como grupo. Esto es lo que nos comunican acerca de su separación:
"A nuestros devotos Sinners,
Con el corazón fuerte anunciamos el fin de Scarlet Sins.
Lamentablemente, a pesar de todo lo que hemos logrado antes y más allá del lanzamiento de nuestro primer disco, hemos llegado a un punto en que ya no tiene sentido continuar como banda. Scarlet Sins está formada por cuatro individuos con sus propias ideas sobre dónde hay que llevar nuestra música. Cuanto más profundizamos en nuestro segundo disco se hizo más y más evidente que la dinámica ya no estaba allí. Algunas de las ideas cuajaron, otras no, y por desgracia algunas de las lagunas en nuestros pensamientos estaban demasiado alejadas y eran demasiado profundas para saltarlas.
En lugar de hacer burla de nuestro álbum debut y todo lo que hemos logrado, esta vez hemos decidido que es mejor si pasamos a hacer otras cosas. Nosotras seguimos como amigas, y estamos eternamente agradecidas a la gente que nos ha apoyado y que ha hecho de Scarlet Sins algo digno de recordar.
Nos gustaría agradecer a todos nuestros fans por el apoyo incondicional y por cada correo electrónico, nota, mensaje, carta, comentario que nos dejaron, que nos anima a hacer lo que nos gusta hacer. Cada una de nosotras se alimentaba de su fuerza y apoyo, y esperemos haber correspondido a través de nuestra música.
Además, gracias a todos los DJ, periodistas, promotores, productores, agentes, administradores, publicistas, bandas, roadies, ex miembros de la banda, amigos y familiares que nos ayudaron en el camino. Sin vosotros no seríamos capaces de apreciar los recuerdos que tendremos para siempre.
Las cuatro seguiremos haciendo música, por supuesto. Ver nuestro sitio web o las páginas de MySpace personal (véase los Top) para actualizaciones de cómo las cosas empiezan a tomar forma.
Vinimos, vimos, nos patearon el culo, salimos con una nota alta.
<3, Sylv, Cris, Tanya, Elie"
Lee más acerca de Scarlet Sins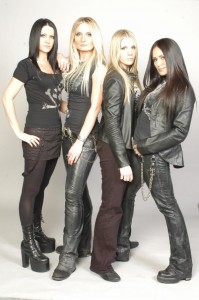 Scarlet Sins has announced their end as a band. This is what they have to say about their split:
"To our faithful Sinners,
It is with a heavy heart that we're announcing the end of Scarlet Sins.
Sadly, in spite of all that we've accomplished prior to and beyond the release of our debut album, we've come to a point where it no longer makes sense to continue as a band. Scarlet Sins is made up of four individuals with their own ideas of where we should take our music. The deeper we got into making our second record it became more and more obvious that the dynamics just weren't there. Some of the ideas gelled, some didn't, and unfortunately some of the gaps in our thinking were too far and too deep to bridge.
Rather than make a mockery of our debut album and everything we've accomplished we've decided it's best if we move on to other things. We part as friends, and we're eternally grateful to the people that have stood by us and made Scarlet Sins something worth remembering.
We would like to thank all of our fans for the unconditional support and for every email, note, message, letter, comment you ever left us encouraging us to do what we love to do. Each of us fed off your strength and support, and, hopefully, we've given that back to you through our music.
Also, thank you to every DJ, journalist, sponsor, producer, promoter, agent, manager, publicist, band, roadie, tech, former band member, friend and relative who helped us along the way. Without you, we wouldn't be able to cherish the memories we will have forever.
The four of us will continue to make music, of course. Watch our website or personal MySpace pages (see Top Friends) for updates as things start to take shape.
We came, we saw, we kicked ass, we went out on a high note.
<3, Sylv, Cris, Tanya, Elie"
Essentially, this means that Viagras effects can last longer the older you are lire l'article Erectile dysfunction sign: har.