Your favorite Metal Style
Black/Death Metal
Your Bands TOP 5
Behemoth, Dimmu Borgir, Morbid Angel, Rotting Christ, Sepultura (Max era)
Male Musician most appreciated
Adam Nergal Darski
Female Musician most appreciated
Tarja Turunen
Song always playing in your headphones
Zero The Hero by Black Sabbath
Favourite Food
grilled salmon with salad, brown rice and pinto beans.
Favourite Drink
Strawberries Juice
The person or thing that you couldn't live without
My mobile
Your life goals
Being a renowned and successful musician with my band Crucifixion BR.
Hobbies
Singing, drumming, walking, practicing Pilates, watching movies.
Write a message to the readers
Keep on fighting for your dreams, no matter what they are, and one day you'll be proud at least for having tried something worthy in your life.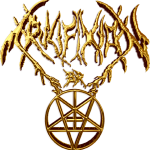 Brazilian Black/Death Metal band formed in 1996, in the south of Brazil, renewed the brazilian metal scene with the aim of creating an original, diabolic and brutal Black Metal, having various influences of 80's thrash metal, death metal and having as their essence the black metal roots. The band's name 'CRUCIFIXION' was chosen by Lord Grave War, inspired by the name of a SEPULTURA song.
In 2004 they've moved to Porto Alegre, constructing since then a big experience in concerts in Brazil, taking part of diverse festivals as the headliners, and supporting KRISIUN in their last show of the ASSASSINATION Tour in 2007. Also in 2011 they have supported DARK FUNERAL together with irish thrashers GAMA BOMB on the Satanic War Tour in Brazil. In 2013 their drummer has moved to São Paulo, waiting for the band to relocate aswell.
The band has previously released in their hometown, Rio Grande, two demo-CD's in 2002, named 'In The Shadows Of The Obscurity' and 'Diabolical Profecies', having swedish musician Jan Felipe Queiroz a.k.a. Den Rode Med Horn (x-bassist of swedish dark ambient band 'MZ.412') as their bassist. These demos have received good reviews in metal mags around the world. Still in 2002 they took part on the compilation 'Metal Crusader' by Radio Muda from SP, being the spotlight in other metal radios and reaching the audience outside southern american boundaries.
In 2011 they have released in August 1st an EP named "War Against Christian Souls" through Satanica Productions, a label from New Zealand. This EP has three tracks from the full-length album, called "Destroying The Fucking Disciples Of Christ". Their EP received lots of great reviews, and got air play in many radios around the world, being the highlight on the show "Demons Of Dark World" by polish Radio Revolta.
And 2014 started as another great year for the band. In January first they release their official video for 'Eternal Judgement', then later they sign to Horror Pain Gore Death Productions from USA, and release in October 7th, 2014 their first official album named "Destroying The Fucking Disciples Of Christ". The album was mixed & mastered at Hurricane Studio, a renowned studio
from Brazil, and it presents CRUCIFIXION BR following their path in the Obscure Art without leaving their spirit and roots from their very beginning, which will mark their new step in the global extreme scene. Tracks from this album have been featured in many compilations around the world, such as Extreme Metal Mu-Sick Compilation by Extreminal Zine from Turkey, Most Unholy Convergence II by Satanica Prods from New Zealand, Brutal Beatings XI by Sick Drummer Magazine from USA, and a compilation of female drummers by Hit Hat Girls Mag from Brazil. Also in 2014 drummer Juliana a.k.a. DarkMoon is featured on the #28 issue of Sick Drummer Mag from USA, as the first woman to be interviewed on this magazine. CRUCIFIXION BR keeps expanding their horizons in the extreme metal scene. They are now touring in Brazil to promote the album, while expecting to make a first tour outside of their country.
Juliana has taken part as a singer at: Noctis Notus (Porto Alegre, Brazil), Dremora (Los Angeles, USA) and Lamented Despondency (Považská Bystrica, Slovakia).
Lord Grave War a.k.a. Márcio Guterres – Vocals/Guitar
DarkMoon a.k.a. Juliana Novo – Drums
Will Tomao – Guest Bassist
Kaufen Sie Cialis unter cliquez ici. Ein schneller Effekt mit Cialis ist garantiert! Das sagte, Wahrscheinlichkeit ist generika, Sie wollen Vorteile nutzen von Ihren Anforderungen und kann wuenschen suffer death freien http://vgrspain.com/