We interviewed Teddi Tarnoff, Queen Diamond's vocalist, the all-female Kind Diamond tribute band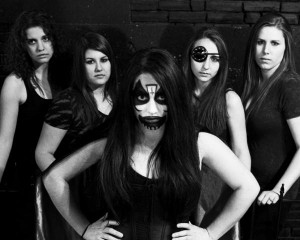 Can you briefly explain the history of Queen Diamond and how this idea become a reallity?
I have been a king diamond fan for close to 10 years now. Queen Diamond was created at a time in my life when music, for too many reasons, had taken a backseat to all the other shit. It was excactly what I needed!

Where all of you King's fans before starting this musical trip? Or someone has been added to the fan club when started playing their songs?
Yes, we were all King fans before we started this project, some more than others.

Has it been difficult for you to sing like him? My oppinion is that you've reached a very good level in covering King. You deserve the Queen's crown!
It hasn't been too difficult to sing like him. I have a background in classical music which definitely helps. But yes, my voice can get very tired after a rehearsal or performance.
And to paint your face like he does? … I can imagine you were not going like this before out the streets 😉
No I can't say that I was in the habit of painting my face like king until this project, but I really don't mind it and most of the time I forget it's even on.
As a cover band, do you feel the need to compose your own songs, have you got any already?
We don't feel like we need to, but we want to. We are in the very early stages of writing together though we all already have our own original projects.
And what are the future plans for the band, apart from touring. Are you planning to record any demo or album?
We really feel like Queen Diamond is more of a visual/theatrical kind of thing. I mean, we know that no one is going to want to just sit and listen to us over king himself. But we do record for documentation sake, and who knows.
What about your dreams? Have you ever dream of sharing stage with King, or open for him in any of his gigs?
Not of sharing the stage with him. That would be far too overwhelming and intimidating. but just to talk with him would be unreal!
Have you ever contacted King? Has he knows about your work? If so, what does he think?
No and I don't know.
What about your DVD. You've recorded one live show, but you are not selling it because of copyright issues. What can you tell about it?
We really just don't want to piss anybody off. So yes, we have dvds and are asking a "donation" for them which is really just to pay for their creation in the first place.
In fact you ment that is more a theatrical work. Do you have a similar onstage presence as King? Do you show also the wheelchair, candles, and so on?
No i don't try to do what he does. I am not him and no on would even be marginally fooled. And in that too, I am not always the focus of what's going on on stage. My girls are truely amazing and most of the time, it's them you're looking at. I really just serve my purpose.
You play also in a "Metallica mode", called Clitallica. It's a more popular band, let's say. Are you offered more gigs as Clitallica than Queen Diamond?
Clitallica was started this year because Queen Diamond needed to take a break for a bit but we were still getting show offers.
You are not covering Hetfield yourself, you play the bass while covering Metallica. Did you try it? Much more easier to sing like James than King Diamond, I think 😉
No, I just play bass in Clitallica 🙂
At the moment you are spreading your name via MySpace. Have you received any feedback from around the world?
We have some friends in other countries but as none of us know anything about promotion, it has been a slow process.
Being a woman is mandatory to play in Queen Diamond, or is just a casualty that all of you are female?
Yes, being a female is kind-of the whole point.
Have you ever had a male in your band? If so, how did he feel surrounded by all that extreme ladies 😉 ?
When we first started, our drummer was a guy. And it was fine, but then we found our incredible Kaleen and it all just made sense.
Do you know any other all-female "extreme" cover bands? Like Slaywhore, for example.
We played a show once with "girls girls girls" (Motley Crüe girl trib) but that's it.
Thans for answering our interview Queen. Good luck!