Blood, fire, love, lust, anger, excitement, strength, courage and danger … They all have the same color, Kirmizi (red)… The band describes their character as Kirmizi and reflect their hard and brave stance to their music. Metaladies.com interviewed the band to know more about their musical riot.
Listen to Kirmizi while reading the interview:
[audio: https://www.metaladies.com/wp-content/uploads/2011/07/UYANWAKE_UP.mp3, https://www.metaladies.com/wp-content/uploads/2011/07/CEKILIN_BASIMDANGET_AWAY_FROM_ME.mp3, https://www.metaladies.com/wp-content/uploads/2011/07/ELVEDAFAREWELL.mp3, https://www.metaladies.com/wp-content/uploads/2011/07/GERIBACK_SLEEK.mp3]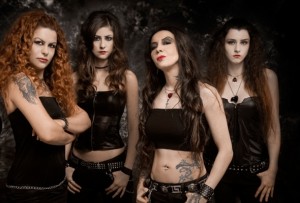 The first question is mandatory. Why to form an all-female metal band?
In 2005, we ( Idil & Asli ) met in a studio and decided to form a band together. When I (Idil) was a student at state conservatory, I was influenced by my piano teacher. She has an amazing talent that she can understand the gender of the player when she listens a composition. Then we thought working with female musicians could create a special sound and a different experience. After we formed the band, we really enjoyed and we are still together.
Do you think that being an all-female band make it easier to get media attention or the opposite, you have to work harder to demonstrate it's all about serious and skilled music.
In Turkey, maybe we had a minor positive effect for media at the begining but for the audience we experienced the opposite. Firstly people wanted to see if we really can do it or not. But right now, after many live performances, they explored our music and our stability. They saw stubborn women on stage saying something about a riot. We had lots of die-hards fan today in Turkey.
But it is different outside Turkey; the media pays more attention to us.
And do you think it's even difficult to be an all-female metal band in Turkey than in the rest of Europe or let's say, North-america?
First of all, it is difficult to be a metal band in Turkey, it doesn't matter if you are male or female. People has a prejudice for women playing a male-dominated music genre in an patriarchal society. But we guess we have succeeded to overcome.
Because there are many all-female bands in turkish music history, such as Ebonsight, Sirannon, Deimos or currently Ancestry, Umut Babilon, Ilkim Oulanem. Even there are far from your syle (all of them close to extreme music), why do you think there are such this amount of female metal bands in your country?
We are living in a society where women are not in the foreground. Therefore women in different areas started to attempt to succeed. So there are some bands with harsh sound but they are sort of underground and unfortunately they don't have a chance to have concerts frequently.
Do you think Metal is a sexist genre?
The metal music has a harsh sound and generally the word "harsh" is associated with masculinity because of the harsh nature of men. If we take a look at the music industry worldwide, the women are mostly vocalists and there are less female instrument players. The metal music is a band thing and it's not that easy for female instrument players to gather, so metal looks like masculine at first sight. We can't say that it's totally sexist.
Also, I don't know other countries but in Turkey, when the children want to become an instrument player their parents prefer to buy a classical guitar, a piano, a violin, etc. instead of an electro guitar, a bass guitar or a drum kit.
Is there any all-female metal band in the world worth to be taken as a sample to follow, any of them you'd like to share the stage with (even if they disbanded)?
We are trying to follow all musicians that play rock and metal. If we categorize as female bands, Vixen is the band that can be influenced and we like to share the stage with.
Do the five of you share the same music taste, or there's a mix of them that ends in your sound?
All of us are influenced by all genres of music.
Since the beginning you've worked with your own record company. Is it because it was difficult for you to get a record deal (I've seen you entered roadrunner signme page) or because you wanted to make it your own?
It is not difficult to get a deal with a major company for us but if you need full support of the company you have to pay the price by softening vocal style, decreasing the volume, forgetting distorsion etc. We wanted to do it as we feel. We did everything by our own. We accepted the risk of failure or the prize of success.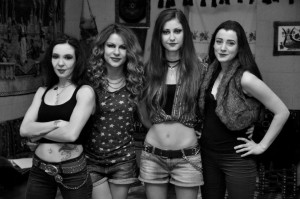 Is there something in your music essence that makes it unique?
People say that there is KIRMIZI sound and they can realize it as soon as they hear the song. That was the thing we wanted to do. I (Idil) compose all the songs and arrange them with Asli. I've educated in opera and experienced opera for many years. I think this has a huge effect on me to create a composition and form it with a heavy sound. Also all lyrics tell a story to disturb people for their hidden thoughts.
Which are your main influences?
We had lots of songs that are not released publicly since the beginning of KIRMIZI. But during the creation of our debut album ISYAN (Riot) we decided not to use any of them and entered the studio with 8 brand new songs. Because we had experienced many things since the begining and wanted to mention our feelings at the end. In other words, we spewed? We influenced from life, people, personal and societal violence.
One difference between this old bands and yours is the easy access to the listeners, thanks to the internet. How important is the net for Kirmizi?
Internet is the basic tool for us to reach to the audience. Day by day it is getting much more important than TV, magazines, etc. We have a website, Youtube, Facebook, Twitter, Myspace, Soundcloud and many more accounts which are much more effective than a website.
You appeared in the CNN. How was the experience, and what was all about?
CNN reporters had seen one of our live perfomances in Istanbul and wanted to have an interview and a live performance for Inside The Middle East program which had a special episode for women from different sectors in Turkey. They said we are the other face of Turkey and wanted to mention that in this program.
I've seen in YouTube there's an uncensored version of your song 'Kirmizi'. Does it means there's a censored one? Why is it censored?
KIRMIZI was a song from our first maxi single that gives our band its name. Lyrics tell an internal voice of a woman who feels like Kirmizi(Red). Kirmizi word used as a metaphor for the color red, symbolizing hate, love, passion, blood. The regret of a women with a manic-depressive character, after she shows and expresses her inner rage. A tide, an avowal, a confession. A destroying character. So the lyrics say: "I'm cursed to burn and destroy, just like a prostitute love". The word prostitute used to characterize love but TV channels cut the word "prostitute" as it is an inappropriate, also they wanted to cut the blood leaking from the telephone at the end of the video. So we wanted to mention this censor issue in the title to let people know about this funny thing:)
Your name means red, your first album is translated as "Riot". All of them related to passion and revolution. What do your lyrics talk about?
In contradistinction to the silenced women, screaming women like us, finally begin to make someone hear their voice by a harsh music. The release of a product that shows how against we are to the rules in the society they live in, is a sort of a riot. And all of these indicate a big revolution.
Which are your real targets, the ambitions you think you'll achieve with your feet on the ground. An which are the goals appearing in your dreams?
We want to change something, be a part of this changing. We want to be heard by everyone. We have a lot to say.
And what's next in your band's schedule? What are your currently involved in?
We have several concerts in here. Also we will be on stage at Eurock Marathon at Leipzig, Germany in September 2012.
We also recently created a new, strange project with 17 people including the most famous belly dancer in Turkey. We played in our own style as it is but with a big classical music orchestra and an orient rhythm band. We singed and played, she danced:) We firstly released Led Zepplin cover but we think to go further:) Video will be uploaded to our Youtube account (www.youtube.com/kirmiziband)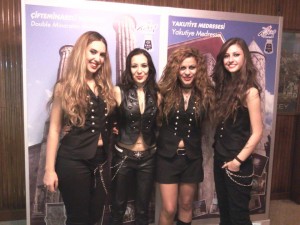 Which are your touring plans? Any plans on touring outside Turkey, as you did in Tilburg?
We want to make a tour in Europe and then US. We are trying to manage several events at Germany after Eurock Marathon.
How was it to be chosen personally by Ozzy Osbourne to open for him at Istambul in 2010? Did you get to know him and listen what he thought about your music?
He wanted to choose an opening band for his Istanbul concert by a contest at Myspace. Our manager applied and she didn't tell this to us. There are several other bands also voted but Ozzy selected our band to be on stage. It was a big surprise and honor for us. We met at the backstage and has taken photos together. He wished us a good luck on stage and in future:)
Was it the most memorable moment in your touring history, or you can tell us something even greater?
The car exploded in tire when we are on the road to have a concert in another city near Istanbul. I (Idil) wanted to change the tire by myself. But my hand had stuck under the trunk lid and my hand swelled. So I put my hand in a bucket of since the concert begins.I never forget that concert that is full of pain:)
If you ever make an european tour think of Spain!
We strongly want to be there!
Read more about Kirmizi here.