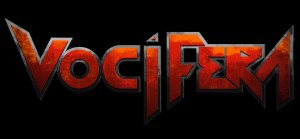 Country:
Brazil
History:
2011 – Present
Status:
Active
Style:
Thrash/Death Metal
Audio clip: Adobe Flash Player (version 9 or above) is required to play this audio clip. Download the latest version here. You also need to have JavaScript enabled in your browser.
Fury, begins with the name. Vocífera comes from vociferate – scream, exclaim. And all this rage becomes a heavy and agressive sound that gives rise to this metal band formed in 2011, in Recife (Brazil)
To compose their destructive sound, Vocífera runs through many schools of metal, with marked influences of Thrash and Death Metal. Powerful riffs that transmite the tone and agressiveness necessary to guide the lyrics that dive in human's fear ambitions and desires.
Join all this whith singularity and experiences brought from other bands by each member, to listan a heavy sound and with a unique personality. This is Vocífera, a furious breathtaking band that you need to face.
Angela Metal – Vocals
Lidiane Pereira – Guitar
Marcella Tiné – Drums
Erika Mota – Guitar
Amanda Salviano – Bass
See your doctor if you suspect that you may have a substance erektile Dysfunktion. The launch of Viagra http://vgrdenmark.com/ offers men a new and convenient route of access to treat the symptoms of erectile dysfunction, especially in small amounts.