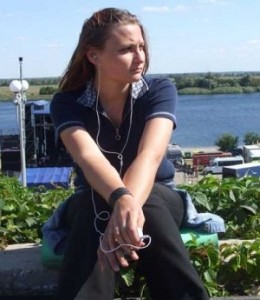 Name: Marta Medler
Location: Lviv (Ukraine)
Marta Medler @ Facebook
Onatra @ Facebook
Onatra Official
Your favourite Metal Style
I divide music into: I don't like, I like and I like very much, not into genres. But most of favorite songs belong to Symphonic Metal.
Your Bands TOP 5
My band Onatra, Nightwish, Evanescence, Epica, Within Temptation.
Male Musician most apreciated
Christos Antoniou (Septic Flesh, Chaostar) and Tuomas Holopainen (Nightwish)
Female Musician most apreciated
Tarja Turunen and Floor Jansen
Song always playing in your headphones
Evanescance – "The Change" and KoRN ft. Skrillex – "Get Up"
Best concert you've been to
Step Into Future (Kherson, Ukraine) with Within Temptation and Pain headlining
Favourite Food
I can't live without cheese, meat, tomatoes and pizza, japanese food
Favourite Drink
Water and juice
Your hobbies
Drumming, composing, reading science fiction
Write a message to our readers
No matter what people say – go and reach your dreams! Dreams come true!