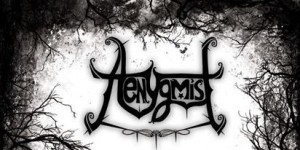 Country: Canada
History: 2005- 2012
Status: Inactive
Style: Melodic Black Metal
Aenygmist was a black metal band hailing from Drummondville, Quebec.
The band started out in 2005 as drummer Joannie and guitarist Roxane playing cover songs and eventually writing their own songs.
Then in 2007, Joannie met Marie at music school (they were paired up together to play a few songs in a concert). The band got more serious and wrote some of the songs. Then in 2009, the band met Vanessa and Jessica and started to play gigs that year. They kept on writing songs and eventually got enough material to record an album, "Creation Born Of Trauma", released on 2010 and inspired by bands such as Cradle Of Filth, Dimmu Borgir, Arch Enemy, Children Of Bodom, Kittie, Astarte, Immortal and Behemoth.
They finally split In 2012, and Mari-Audrée continued playing in the band Vehemal.
Vanessa Chevarie : Vocals
Marie-Audrée Houle : Guitar
Roxane Labonté : Guitar
Jessica Pion : Bass
Joannie Gagnon : Drums
2010, "Creation Born of Trauma" (LP)
Questo approccio Viagra ci ha permesso di agevolare gli utenti grazie all'ampia scelta di metodi Cialis di pagamento offerti da lire l'article. Its perfect time to make some plans for the future and its time to be happy with volumen de sildenafilo.