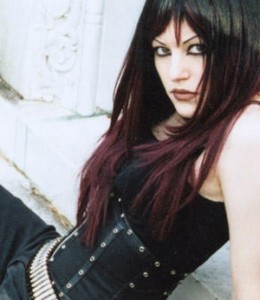 Name: Kim Dylla
Location: Charlottesville, VA (USA)
www.myspace.com/kimdylla
www.churchofheavymetal.com
www.kimdylla.com

Audio clip: Adobe Flash Player (version 9 or above) is required to play this audio clip. Download the latest version here. You also need to have JavaScript enabled in your browser.
Your favourite Metal Style
Black Metal
The female singers that you respect the most
Sabina Classen of Holy Moses, Karen Crisis of Crisis, Runhild "Ozma" Gammelsæter of Thorr's Hammer, Patti Smith, Wendy O Williams
The best show you've performed in
When we played the main stage at Nation in Washington DC in 2005
The best show you've been to as spectactor
Wacken Open Air 2006
The 5 bands you'd like to share stage with
(these are bands I think my band would go over well with, not so much my favorite bands) Slayer, Tool, Lamb of God, Kreator, Obituary
Song always playing in your tour bus
Dream Evil "The Book of Heavy Metal"…listen to it, you'll see why!
Favourite Food
Beer
Favourite Drink
Beer
Your hobbies
Singing, Rocking, Moshing, Getting Wasted, Playing Shows, Going to Shows, Oil Painting, Pro-Wrestling (I am a wrestler), Traveling, Archaeology, Computer Graphics, Learning Languages, Lifting Weights, Making Corsets and Custom Rock Gear
Write a message to the readers
I love being a member of the metal community, because I feel like you have this network of almost instant friends all over the world. I feel like the metal world is an integral culture in a way- it is an extreme art, and we all have to have something in common to be able to relate to that. The more time I spend here, the more I realize what a small world it is, the more doors it opens, and the more exciting and wonderful new music and people I meet.