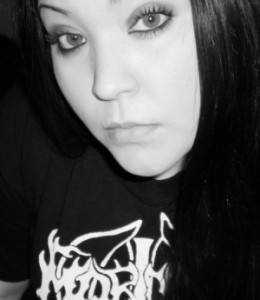 Name: Vanessa Marie "Vinnie" Necrosadism
Location: Rio Grande Valley, TX (USA)
myspace.com/severed_one666

Audio clip: Adobe Flash Player (version 9 or above) is required to play this audio clip. Download the latest version here. You also need to have JavaScript enabled in your browser.
Your favourite Metal Style
Black
Your Bands TOP 5
Black Sabbath, Celtic Cross, Metallica, Slayer, Obituary, Auptopsy
Male Musician most apreciated
Tony Iommi from Black Sabbath
Female Musician most apreciated
Not so sure
Song always playing in your headphones
A Dying God Coming Into Human Flesh – Celtic Cross…I love the intro.
Best concert you've been to
King Diamond over at the Villa Real in Mission, TX
Favourite Food
Italian, Chinese
Favourite Drink
Double Jack and Coke, Coke and Cranberry Juice
Your hobbies
Cooking, Painting, Collecting,
Write a message to the readers
I do metal interviews for TX bands for Winter Torment E-Zine. Welcome to my page.