Intuitive, obstinate, titillating, energetic, deadly melodic guitar-driven alternative rock with a raw, freaky edge. That's Bitchcock in the words of Annemiek van Grondel, one of its founders, who talked to Metaladies.com about her band.
Listen to Bitchcock while reading the interview:
[audio: https://www.metaladies.com/wp-content/uploads/2009/03/01-thin-cord-remix.mp3]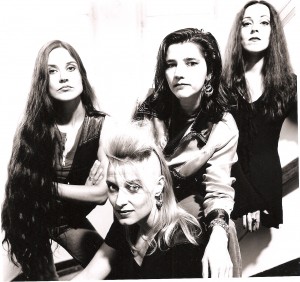 Bitchcock stayed in the business for fifteen years. Do you think you really have finished what you started in 1990? Did you reach the expectations you had at the beginning?
The expectations were not as high when we started out in 1990. In the years we played, we did not only concerts in the Netherlands, but also in Switzerland (more than once), Austria and Germany. We never expected to be very famous, so the fact that this indeed did not happen was be taken into account and not at all disappointing. We had a lot of fun, and that counts.
Do you regret of something happened to the band, of a bad decision, of something that now from the distance you know it would have helped the band to continue in a successful path?
The only thing I regret is that we did not have the persistence to release our last album.
Being an all-female band was a concept to keep since the beginning. Why were you willing to form an all-female band?
Female bonding is something we thought was an attractive idea. We wanted to proof that guys were not needed to make good music. But to be honest, we had some guys in the band, on and off: we played in the beginning with a male solo-guitar player and the drum recordings of The Birds are done by a male drummer, who left the band quite soon because of a lack of chemistry. Sam Ford followed in his footsteps and the chemistry with her was a proven fact. And she played very, very well. In the end, after solo-guitarist Yolande and drummer Sam left, Ly and I for a short while worked with Abel and Yohan (both guitar) and Sandrijn (drums), but the dawning of the end of LeSabre was then already clear.
Let's make a short trip through your history. Everything started when you and Elisabeth started rehearsing in the summer of 1990. But it was not until seven years later that you had a solid lineup, and made important gigs. What happened during this seven "dark" years?
🙂 In the Dark Age we had a lot of fun, struggled in the rehearsal room, tried out our first songs with no strings attached, 'abused' a lot of musicians, from which bass player Ly really turned out to be a consistent band member, did our first gig in 1993, played some local venues and festivals and did not take the music life too seriously.
Talking about gig highlights, you were touring through Netherlands, Switzerland, Germany and Austria, together with Hole or Babes in Toyland. This were great years for all-female rock bands (let's add L7). What do you recall from this days and tours?
Magic! It was a great opportunity to be in bigger venues, like the Melkweg, and touring on the road with four girls was both stressy and hilarious. One of our last big gigs, as a support band in two big Dutch venues in Holland (Melkweg Max, Amsterdam and Het Paard in The Hague, both sold out) was for Rockbitch, the nude girl band with explicit sexual content. At first Rockbitch were suspicious of us, thinking we adapted our name to theirs, but as soon as they found out we were called Bitchcock for years, and also could actually 'play', they spontaneously doubled our meager fee, taken from their own income. The next gig in The Hague was a couple of days later, and we surprised them in the dressing room with a big cake, appropriately covered with the word 'EAT ME' in whipped cream on it. Ofcourse we played with our cloths on and were only eating the pie with them.
You played successful gigs in front of 6500 and few months later in front of 5 people. How did this affect the band, feeling like in the top of popularity and later like completely unknown?
That was more a matter of speaking. Don't take success too seriously, has always been our motto.
Talking in terms of popularity. How popular do you were back then, in Netherlands and Europe? Did you get media attention?
We got reviews for our albums, were played a couple of times on national radio, did some radio interviews in Switzerland and that was it. O yes, and we won Spin/GeoCities internet competition for best unsigned band, but didn't know at first; then had to threaten to 'sue GeoCities' ass' before eventually receiving our prize. We had some loyal fans who attended our shows, but no fanclub. And unfortunately no fanzine. This was in the days before MySpace, and we lazy bitches were not really standing in the nerd frontlines concerning a website of our own.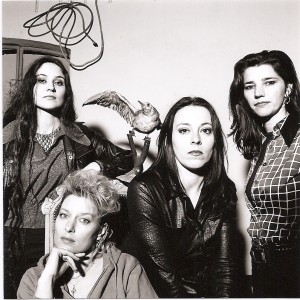 About the reviews, the ones written for "The Birds", your first LP, where very good. Tell us a bit about this album, its recording and selling numbers.
We recorded it in about one or two weeks, in De Boventoon, a popular studio in Amsterdam. A local record company was willing to release it, but it was not very professional. The review copies were sent to the newspapers and music mags about two months before the album reached the stores. The reviews were almost all very good, I recall a review in de Volkskrant, one of our biggest national newspapers, that was raving and made us blissfully fly for days. But when the album finally was in the record stores, I guess people may have forgotten about it. The sellings were not so good, I am afraid. We haven't received a penny for it.
And about the style. Your sound was very professional and skilled, and had your own original trademark. There were the alternative component, the rock riffs, the melodic voice and catchy chorus. How would you define your music?
Intuitive, obstinate, titillating, energetic, deadly melodic guitar-driven alternative rock with a raw, freaky edge.
After the release of "The Birds", you changed your name to LeSabre. Why this change and why that radical?
Some people confused us with Rockbitch (see above), other people thought our name was childish and perhaps offensive. Because our drummer Sam Ford was a huge car freak, she came up with the name, and after we had seen LeSabre cars (the oldtimers, of course!) we were totally convinced.
And with the name change they came the problems. You recorded one LP, "The Devil Is A Woman", that never saw the light. What happened with this record? Was it finally released? If not, what are we missing?
Like I said, we were not persistent enough, and did not have a big distribution network nor a record company that was willing to release it. So we lost quite some money on the recording. The fact that Yolande left the band was also not helpful. I think it is a shame, because I consider the songs on The Devil Is A Woman to be our best.
Yolande left the band, and Abel Cañizales came in. A male incursion in the band. Was it an easy decision to leave the all-female formation, or there was no way to find another female musician?
He was not the first man into the band, but he was a damn good guitar player. Also Yohan (guitar) and Sandrijn (drums) entered the scene at some point. We only did one gig with them, by the way. We left the idea of a female group in order to make LeSabre an even better band. But due to some reasons and a constant lack of time and other interests (Ly became a mum, for instance) we decided to call it a day after a while.
Which are the whereabouts of Bitchcock components nowadays? Do you still meet the girls? Is there any reunion possibility?
No, there will not be a music reunion. Sometimes we see each other to talk about the good old days and drink lots of wine and whisky. Liesbeth is still my best friend who I see at least once a week. I make music now with four guys in Superspade, which play on a not too serious basis in venues (like the Melkweg) and Liesbeth made a successful underground career as Solex (which at one point was signed to the Matador label in New York and got some good radio support of the late John Peel). Ly is also still making music in a non-female band.
Tell the readers why Bitchcock is a band worth to give an opportunity.
Bitchcock/LeSabre are not playing anymore but are mentally supporting all rock 'n' roll girls worldwide who are thinking of gathering their strengths musically. Making music together is so much fun! It has nothing to do with being famous or getting groupies, although some extra attention is always worthwhile. It is all about the Ecstasy of Electrifying Energy. You go girls!!