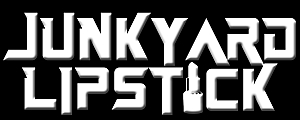 Country: South Africa
History: 2011 – Present
Status: Active
Style: Hard Rock/Thrash/Punk
Junkyard Lipstick was born in Cape Town early 2011 as a punk group. Over the last 4 years they have evolved into a metal band. They have been playing the local club circuit & numerous local festivals during this time.
Persisting through line-up changes, they changed their focus to writing heavier and faster material, concentrating on topics such as politics, social issues and gore delivered with a feminine touch.
Another change in 2014, opened up the opportunity to continue their onslaught as a five piece all female thrash metal band.
Junkyard Lipstick always aim to push themselves to new heights musically. With every change, they have evolved into a well-rounded thrash metal band.
Jo Smit – Vocals
Drums – Lucinda Villain
Louise "Gore" Gorman – Lead guitars
Jack Roodt – Bass
Robyn Bruwer – Rhythm Guitar
Tazz O – Rhythm guitar, vocals
2011, "Hollywood Hustler/Manic Moronic" (Demo tracks)
2012, "Girls on Rampage" (unreleased)
2012, "Autopsy Time" (Demo track)
2013, "Hellbent" (LP)
2014, "The Butcher's Delight" (EP)
2015, "Damned in the Deep South" (Single)