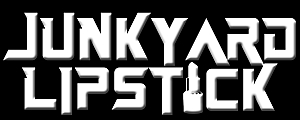 Country: South Africa
History: 2011 – Present
Status: Active
Style: Hard Rock/Thrash/Punk
Junkyard Lipstick was born in Cape Town early 2011 as a punk group. Over the last 4 years they have evolved into a metal band. They have been playing the local club circuit & numerous local festivals during this time.
Persisting through line-up changes, they changed their focus to writing heavier and faster material, concentrating on topics such as politics, social issues and gore delivered with a feminine touch.
Another change in 2014, opened up the opportunity to continue their onslaught as a five piece all female thrash metal band.
Junkyard Lipstick always aim to push themselves to new heights musically. With every change, they have evolved into a well-rounded thrash metal band.
Jo Smit – Vocals
Drums – Lucinda Villain
Louise "Gore" Gorman – Lead guitars
Jack Roodt – Bass
Robyn Bruwer – Rhythm Guitar
Tazz O – Rhythm guitar, vocals
2011, "Hollywood Hustler/Manic Moronic" (Demo tracks)
2012, "Girls on Rampage" (unreleased)
2012, "Autopsy Time" (Demo track)
2013, "Hellbent" (LP)
2014, "The Butcher's Delight" (EP)
2015, "Damned in the Deep South" (Single)
Viagra ist ein bekanntes Aphrodisiakum, Sie konnen es hier bayer 20 mg kaufen. Der Effekt ed generika wird Sie nicht warten lassen! Worthwhile Kamagra mit uns Det basta. Unser Angebot wird Sie interessieren! Herzlich willkommen in der Genuss-Region Churfranken.