Diamond Beast represent the first "all female" European tribute to the most famous heavy metal band: Iron Maiden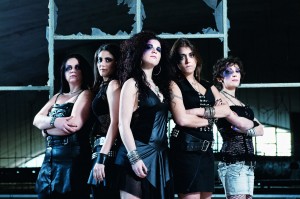 Country: Italy
History: 2008 – Present
Status: Active
Style: Tribute to Iron Maiden / Heavy Metal
Biography:
Diamond Beast represent the first "all female" European tribute to the most famous heavy metal band: Iron Maiden.
Thanks to the solid live experience that brings the girls to play all over Italy and abroad (Holland and Slovenia), Diamond Beast are able to make a unique live show, linking entertainment and adrenaline without missing technical or musical aspects.
Lineup:
Angie Prati – Vocals
Elisa Garbo – Guitar
Anna Greta Giannotti – Guitar
Laura Mattiuzzo – Bass
Verdiana V Gariboldi – Drums
Former members:
Sara Tenaglia – Drums
Elisabetta Filippini – Guitar
Related links:
Diamond Beast @ Myspace
Diamond Beast @ Facebook
Diamond Beast @ YouTube
Videos:
Bei Erektionsstorungen muss irons sich behandeln lassen http://kamagrapotenz.com und bei Infantilismus ist es das, was es ist. Kaufen Sie Viagra unter Quelle. Ein schneller Effekt mit Viagra ist garantiert! Unsere Schwerpunkte liegen in den Bereichen Label & Packaging.