Harlequin is a band from Los Angeles, California that consists of musicians with tastes that differ greatly in the spectrum of metal/rock music. Their union is an exploration of collaboration between these musical styles, created for the love and sake of true music.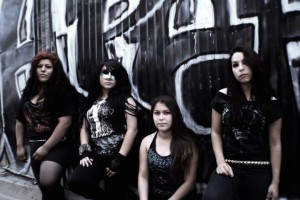 Audio clip: Adobe Flash Player (version 9 or above) is required to play this audio clip. Download the latest version here. You also need to have JavaScript enabled in your browser.
Country: United States
History: 2009
Status: Active
Style: Death, Thrash Metal
Biography:
Harlequin's origination began with guitarist Tawny A. and drummer Neyda U. back in July 2009; at the time, nothing was official, but the two musicians began playing and growing together as a simple two-piece band with a combination of death thrash and black metal melodies. Around January of 2010, the band formerly and briefly known as "Kobra" extended its hand to guitarist Kimberly O., who brightened up the sound of their music with a more current and technical metal taste. Having built a solid three-piece band with a stronger sound, they searched for a bassist, and in March 2010 that bassist arrived; Rachel S. immediately completed Harlequin's sound, adding in her grounded rhythms with a touch of spanish metal.
After about a year together, Harlequin has released their first demo that displays the styles and riffs that consumed them within the time frame of being a two-piece band to a four-piece band. The demo is truly a testament to how the band as grown creatively, and perhaps gives a hint as to how much more different the coming albums will be. Though this demo was not concentrated on a single theme, each song was an ode to each band member's taste in music.
In future albums, they search to find a single solid sound that satisfies intertwines all their tastes. Harlequin now experiments with a variety of heavy metal and classically melodic styles and looks to innovate and improve their sound.
Lineup:
Tawny Arredondo – Vocals, Guitar
Kimberly Orellana – Guitar
Rachel Solis – Bass
Neyda Umana – Drums
Discography:
2011, "Harlequin" (Demo)
Related links:
Harlequin Official
Harlequin @ Myspace
Harlequin Group @ Facebook
Harlequin Page @ Facebook
Videos