Nephyla is a female Grindcore Death band, from Oaxaca, Mexico. The band define themself as musically influenced by the masters of auditive brutality. These influences and their lyrics focused on grotesque aspects of nature, human behavior and society are reflected in their debut demo "Canibalismo Intrauterino"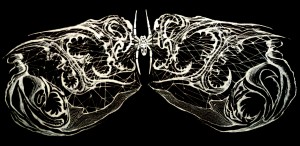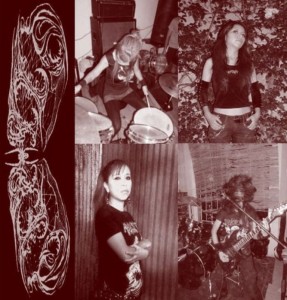 [audio: https://www.metaladies.com/wp-content/uploads/2011/09/02-CANIBALISMO-INTRAUTERINO-by-nephyla.mp3, https://www.metaladies.com/wp-content/uploads/2011/09/06-aphota.mp3]
Country: Mexico
History: 2000 – Present
Status: Active
Style: Death mince-core
Biography:
Nephyla is a female Grindcore Death band, from Oaxaca, Mexico. The project was created by Val (drums) in 2000, focused on Grindcore Crust in its beginnings.
For various reasons the group didn't materialize, and went into dormant phase. Val begins the search for musicians linked to their extreme tastes, leading to Katt (guitar, vocals) in late 2008, the date that marks the rebirth of the band.
The bass duties have been alternating between different girls live, no one of them joining the lineup definitively. In the studio Val and Katt are responsible for all instruments. Under such this way of working Nephyla has performed at festivals in several states in Mexico as the Mexican Gore Mafia 2010 and the Gorecannibal Tour 2011.
The band define themself as musically influenced by the masters of auditive brutality, citing Fear of God, Human Greed, Aborted, Dying Fetus, Criple Bastards, Agathocles, Impaled, Insect Warfare, Wormnt Rot, Regurgitate, Napalm Death, Magrudergrind, Terrorizer, Denak, Machetazo, Meat, Anarchus, system failures, Putrid Scum, The Zephyr, Paracocci, Without God, Carcass, Sufocattion, Impetigo, Carnal Decay, Decapitated, Nahsgul, Rotten Sound and Nasum among them.
These influences and their lyrics focused on grotesque aspects of nature, human behavior and society are reflected in their debut demo "Canibalismo Intrauterino" (2009) and in a split called "Aphota" pending publication, both in the label Gorecannibal recs.
Lineup:
Val – Drums
Kat – Guitar, Vocals
Discography:
2009, "Canibalismo Intrauterino" (Demo)
2010, "Aphota" (Split)
Related links:
Nephyla @ Facebook
Nephyla @ Reverbnation
Gallery:
Videos: