Take The Power Back stablished themselves as the world's first and only all-female Rage Against the Machine tribute band in October 2008 in Nashville, Tennessee. Since that time, they've shared stages with many popular all-male tribute bands, and they've followed in the footsteps of RATM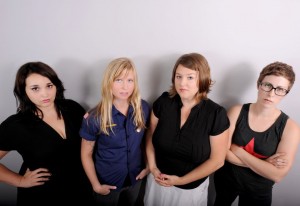 [audio: https://www.metaladies.com/wp-content/uploads/2011/09/Guerrilla-Radio.mp3, https://www.metaladies.com/wp-content/uploads/2011/09/Down-Rodeo.mp3, https://www.metaladies.com/wp-content/uploads/2011/09/People-of-the-Sun.mp3]
Country: United States
History: 2008 – Present
Status: Active
Style: Tribute, Rapcore
Biography:
Take The Power Back stablished themselves as the world's first and only all-female Rage Against the Machine tribute band in October 2008 in Nashville, Tennessee. Since that time, they've shared stages with many popular all-male tribute bands, and they've followed in the footsteps of RATM by performing at benefit shows for local non-profit organizations such as Southern Girls Rock and Roll Camp. At Take The Power Back shows, RATM devotees offer their ecstatic approval. Those expecting a novelty act instead find a gutsy rock band, and the skeptical are converted.
Upon hearing RATM's self-titled first record for the first time in over ten years, guitarist Sarah Rose Jones rediscovered why Rage's songs resonate with so many people – including herself as a teenage girl in the mid-1990s. She then made it her mission to find three other like-minded women to share the experience of playing Rage's fervent and passionate music. Local drummer Laura Taylor was excited enough by the idea to immediately go home and play the only RATM song on her iPod (for the record, it was "Bulls on Parade"). Though bassist Sarah Shepherd will be quick to tell you that she was previously completely unfamiliar with RATM, she soon found herself to be a new Rage fan. It would take a special person to capture the intensity as well as the sensitivity of frontman Zack de la Rocha, and the logical choice was Katy Odenbaugh, even though this would be her first time in a band. An administrative professional by day, Katy has managed not only to express de la Rocha's distinct voice with a powerful feminine style, but also to capture his ferocious screams in a way no one could imagine upon first glance.
These four ladies aspire to carry forth the ideals represented by RATM. Rap legend Chuck D once made the statement that by naming their band Rage Against the Machine, de la Rocha and his bandmates made a promise to their fans to do just that. Take The Power Back chose their own band name in that same vein, rather than going with a girly twist on a Rage song title (of which they've heard quite a few… and they're all amusing). Conscious of both the unconventional rarity of being an all-female rock band playing protest music, Take The Power Back seeks not only to rock RATM fans by staying true to the songs, but also to change minds and shift attitudes about what it means to be in the minority, much in the same way their forefathers in RATM did.
Lineup:
Sarah Rose Jones – Guitar
Laura Taylor – Drums
Sarah Shepherd – Bass
Katy Odenbaugh – Vocals
Related links:
Take The Power Back official
Take The Power Back @ YouTube
Take The Power Back @ Facebook
Take The Power Back @ Twitter
Take The Power Back @ Myspace
Videos: