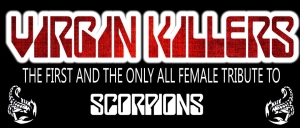 Country: Italy
History: 2012 – Present
Status: Active
Style: Tribute To Scorpions/Heavy Metal
Virgin Killers are the first and only all-female tribute to Scorpions. The project started in January 2012 by a common passion for music of the German group.
The band offers a repertoire that covers the greatest hits of the period 1980-2010, the best-known hits and some songs definitely appreciated by connoisseurs.
Isabella G. – Vocals
Maura M. – Rhythm guitar, backing vocals
Elisabetta F. – Lead & rhythm guitar
Isabella N. – Drums
Emma Z. – Bass
Anna C. – Bass, backing vocals