Vision is Hard Rock with strong melodies, heavy riffs and great choruses and is fronted by the enigmatic Queen B that lays on the foundation of the heavy crunch of Marys guitar backed by Monas leads and the thunderous beats of Emlee and Jennie.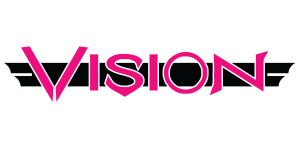 [audio: https://www.metaladies.com/wp-content/uploads/2010/05/Vision-Bury-You-Alive.mp3, https://www.metaladies.com/wp-content/uploads/2010/05/Vision-Sleep-When-Im-Dead.mp3]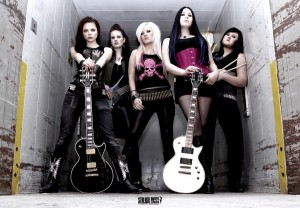 Country: Sweden
History: 2006-2010
Status: Inactive
Style: Hard Rock
Biography:
The band Vision was founded in Stockholm, Sweden by guitarist Mary in 2006. The band took its early form at the music and film organization "No Remorse" and has evolved since then to a trademark in Hard Rock and 70's/80's Metal.
Through the years some member changes has been done but the core of the guitarist Mary and singer Queen B has remained intact since they reformed the band together 2007 with a change of sound to a more eigthies approach.
Vision has played much live both in Stockholm/Sweden and abroad. Several videos has been made to promote the band. The song Sleep When I'm Dead was choosen to be the swedish soccer team LdB FC's promotional song for the 2009 season. And the video for the song Bury You Alive has attracted a lot of attention in places such as the website of classic Rock magazine.
In 2010 Vision was put on ice for a while due to musical reasons. All of the members are playing in some new thriving projects. Emlee and Mary has the band Frantic Amber together with three new girls and Mona, Queen B, Emlee and Jennie have the new band Spitchic.
Lineup:
Mary – Guitar
Queen B – Vocals
Mona – Lead Guitar
Emlee – Drums
Jennie – Bass
Former members:
Camilla – Drums
Chrikke – Guitar
Lea – Drums
Jessica Foxx – Guitar
Jennah – Drums
Lolita – Bass
Karin – Bass
Lili – Vocals
Minna – Drums
Related links:
Vision Official Site
Vision @ MySpace
Vision @ YouTube
Videos