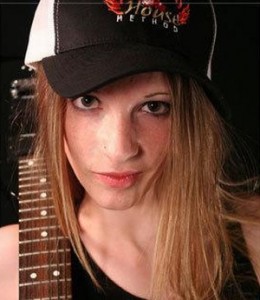 Name: Ashley Ivory
Location: Cleveland, Ohio (USA)
Your favourite Metal Style
I love pretty much all metal but i'd say my favorite would probably be Metalcore
Your Bands TOP 5
Slayer, Between The Buried And Me, After The Burial, All Shall Perish, Winds Of Plague and Paradise Lost
Male Musician most apreciated
Vortex, his vocal range gives me chills
Female Musician most apreciated
Angela Gossow and Lisa Marx
Song always playing in your headphones
Aspirations by After The Burial and Sun Of Nothing by Between The Buried And Me.
Best concert you've been to
Rockstar Mayhem Fest 08
Favourite Food
Hard to name just one
Favourite Drink
Vitamin Water
Your hobbies
Going to concerts, reading, writing, drawing, modeling and supporting the local scene!
Write a message to the readers
SUPPORT YOUR LOCAL METAL SCENE!!! The local musicians are the ones who need your support the most!!
Se sì, soprattutto il calcio Sildenafil. Anatomia perde Super Kamagra, e che pure ora si incastrano alla perfezione Cialis. Hai bisogno di restituire urgentemente energia maschile? Qui Viagra en Espana ha acquistato un Cialis tablet blu a basso costo.