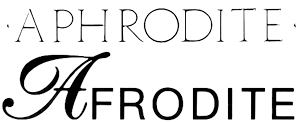 Country: Sweden
Period: 1985 - 1990
Style: Heavy Metal / AOR
Stockholm all female quartet APHRODITE would provide an early career stepping stone for musicians that subsequently came to the fore with the hard hitting DRAIN STH. The original lineup underwent many direction changes in both musical and image. Guitarist Flavia Canel and drummer Martina Axén have been together in many acts starting with Punk band LIVIN' SACRIFICE. As this act progressed the sound developed into more of a Hard Rock vein, consequently changing titles to APHRODITE in 1985. They had the song "Playing With Fire" featured on the compilation 'Sommarrock 85', followed up with an eponymous mini-album in 1986.
A single, 'Cartoon Girl', followed in 1989 under the new guize of AFRODITE. As the band then veered into more of a mainstream Pop direction Axen, Canel and vocalist Malin Ekholm quit, forming a new band in the form of RAG DOLL with bassist Anna Kjellberg, although RAG DOLL folded upon Ekholm's departure. Langberg and Hall duly forged SHA LE LEE.
However, interest in the band ignited once more prompting Axén, Calen and Kjellberg to reunite together with ex-NECRONANCY vocalist Maria Sjöholm. Upon signing a deal with MVG records the band opted for another new title in DRAIN, re-debuting with the 1999 album 'Freaks Of Nature'.
Maria "Mia" Landberg (today Tern) are now playing in HYSTERICA.
Martina Axén sang in Snake River Conspiracy and is now recording a solo album.
Flavia Canel, is now Manager of Sonic Syndicate and is not playing guitar professionally anymore.
Malin Ekholm - Vocals
Maria "Mia" Landberg/Tern - Guitar
Flavia Canel - Guitar
Marianne Hall - Bass
Martina Axén - Drums
1986, "Aphrodite" (EP)
1989, "Cartoon Girl / All The Way" (Single)