Emerging from the sweaty, dark jungle of AC/DC tribute bands, this new all-girl supergroup has gotten together in 2010 to show you how to rock.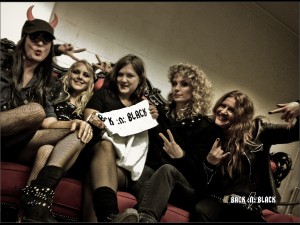 Country: Switzerland
History: 2010 – Present
Status: Active
Style: Tribute, Hard Rock
Biography
BACK:N:BLACK is one of the world's best tributes to AC/DC. They all just happen to be drop-dead gorgeous girls.
From the electrical maelstrom of the AC/DC-runaways, the foremost musicians have joined forces to forge what has become the best of the best of the AC/DC tribute bands. Belting out the classic AC/DC repertoire with blistering conviction, high energy and theatrical surprises, they are rapidly becoming known as THE all girl AC/DC tribute, worldwide. 100% professional, they are perfect for bike fests, music festivals, tour supports & private events.
All Girls. All Rock N Roll. All BACK:N:BLACK. Don't call them another girl band. BACK:N:BLACK is the Ultimate All-Girl Tribute to AC/DC.
Related links
Back:N:Black official
Back:N:Black @ Facebook
Back:N:Black Booking
Back:N:Black @ YouTube
Gallery
Videos