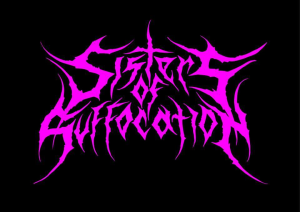 Country: Netherlands
Period: Since 2014
Style: Death Metal
S.O.S is an Eindhoven based Death Metal band determined to spread their love for extreme music and cover the world in pink!
In 2014, vocalist Els Prins and guitarist Simone van Straten decided to start playing Death Metal with a twist – that is, with other girls who shared their love of extreme music. Behold the birth of Sisters of Suffocation! They teamed up with drummer Amber de Buijzer and bassist Marjolein van den Nieuwenhuizen, and released their first single 'Boundaries' in 2014. Off to a fast start, they played at Eindhoven Metal Meeting 2014, and continued trashing stages in the Netherlands and Belgium in 2015. In May of that year, Marjolein and the band parted ways, while Puck Wildschut was attracted as the new bassist. 2015 saw more stage action, together with bands such as Prophecy, Rectal Smegma and Malignant Tumor.
S.O.S. Released their first EP 'Brutal Queen' in April 2016, showcasing their love for not only Death Metal, but also Black, Thrash and Progressive Metal, with an Old School edge. They released a video for the titel track 'Brutal Queen' and a lyric video for the song 'Fuck It' followed shortly. They are currently in the midst of many release shows in the Netherlands and Belgium, and will play at multiple summer festivals, such as Antwerp Metal Fest and Stonehenge Festival.
Els Prins - Vocals
Simone van Straten - Guitar
Amber de Buijzer - Drums
Puck Wildschut - Bass
Marjolein van den Nieuwenhuizen - Bass
2016, "Brutal Queen" (EP)