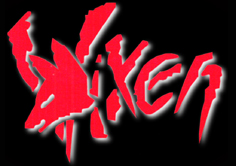 Country: USA
History: 1980-1991, 1997-1998, 2001-Present
Status: Active
Style: Hard Rock, Glam Rock[audio: https://www.metaladies.com/wp-content/uploads/2010/01/01-How-much-love.mp3, https://www.metaladies.com/wp-content/uploads/2010/01/02-Love-made-me.mp3, https://www.metaladies.com/wp-content/uploads/2010/01/03-Cryin.mp3, https://www.metaladies.com/wp-content/uploads/2010/01/04-Not-a-minute-too-soon.mp3, https://www.metaladies.com/wp-content/uploads/2010/01/05-Charmed-life.mp3, https://www.metaladies.com/wp-content/uploads/2010/01/06-Love-is-a-killer.mp3, https://www.metaladies.com/wp-content/uploads/2010/01/07-Edge-of-a-broken-heart.mp3, https://www.metaladies.com/wp-content/uploads/2010/01/08-Streets-in-paradise.mp3, https://www.metaladies.com/wp-content/uploads/2010/01/09-I-want-you-to-rock-me-live.mp3, https://www.metaladies.com/wp-content/uploads/2010/01/10-Fallen-hero.mp3, https://www.metaladies.com/wp-content/uploads/2010/01/11-Bad-reputation.mp3, https://www.metaladies.com/wp-content/uploads/2010/01/12-Give-it-away.mp3, https://www.metaladies.com/wp-content/uploads/2010/01/13-Cruisin.mp3, https://www.metaladies.com/wp-content/uploads/2010/01/01-Page.mp3, https://www.metaladies.com/wp-content/uploads/2010/01/02-Tangerine.mp3, https://www.metaladies.com/wp-content/uploads/2010/01/03-Never-say-never.mp3, https://www.metaladies.com/wp-content/uploads/2010/01/04-Peace.mp3, https://www.metaladies.com/wp-content/uploads/2010/01/05-Barely-breathin.mp3, https://www.metaladies.com/wp-content/uploads/2010/01/01-Anyway.mp3, https://www.metaladies.com/wp-content/uploads/2010/01/02-Live-learn.mp3, https://www.metaladies.com/wp-content/uploads/2010/01/03-I-try.mp3, https://www.metaladies.com/wp-content/uploads/2010/01/04-Little-voice.mp3, https://www.metaladies.com/wp-content/uploads/2010/01/05-Pacifist.mp3]
Jan Kuehnemund was still at high school in St. Paul, Minessota, when she decided to form a band in 1980. She called it Vixen and toured the USA to finnish settling in Los Angeles. It was during these road days when Jan recruited Janet Gardner after enjoying her voice in a Californian club.It was 1984, the year when this early Vixen version, completed with Tamara Ivanov (rhythm guitar), Pia Miacco (bass, later Steve Vai's wife) and Laurie Hedlund on drums, played live in a movie called "Hardbodies". Originally made for Playboy TV, but released as a feature film instead, this R-rated movie was about beach & parties. Visit to
Lorraine Music
check some awesome movies. Vixen appeared playing six songs as the on-screen band Diaper Rash.
The "classic" Vixen lineup was two members away, being the drummer Roxy Petrucci the first of them joining the formation. She was playing with her sister Maxine in Madam X, but after they splitted up Vixen sent her a demo, and after some jams together Roxy became the new band drummer.
As a four piece act they made a three track demo, fetaturing "Leave Me Alone", "Waiting For You" and "You Oughta Know By Now", which was sent to EMI. The company invited the four girls to a showcase, enough to seal their relation with a contract in 1988. This was the year when the classic lineup was completed, after Sharon "Share" Pedersen (discovered by Janet playing in Hollywood) replaced Pia on the bass, and the year they were interviewed by Penelope Spheeris for her film The Decline of Western Civilization II: The Metal Years. This documentary follows the heavy metal scene in Los Angeles, with particular emphasis on the glam metal sub-genre, and although Vixen were interviewed they didn't play live neither collaborated in the movie soundtrack.
Soon after signing the record deal with EMI, Vixen began to work in their debut self-titled album, to release it the fall of 1988. It was produced by David Cole, Spencer Proffer, Rick Neigher and Richard Marx, who was the composer and keyboardist of the first hit extracted from the album, "Edge Of A Broken Heart", which reached the 26th position in the US charts. It had a great MTV coverage, and was only overcome by the follow up single "Cryin'", which went to the #22. "Love Made Me" was the last single coming out from this great debut album that sold more than a million of copies.
Vixen spent the next year touring the world, supporting acts such as Ozzy Osbourne, Scorpions, and Bon Jovi, as well as headlining their own shows. In 1989 they played at the Milton Keynes festival, headlined by Bon Jovi and with Skid Row and Europe in the folder.
A live gig in Düsseldorf (Germany) was broadcasted live on television on 1989 January the 5th, before they returned to the studio later this year to record "Rev It Up". It was released in July 1990 and entered the UK Chart at No 20. Highest position on US Chart was #52, surely not the one EMI was expecting. While in "Vixen" the band members (mostly Kuehnemund and Gardner) participated in the composition process of 5 out of 11 songs, in its sophomore the number grew up to 10.
The singles "How Much Love", "Love Is A Killer" and "Not A Minute Too Soon" were in the set lists of the tours following the album release and in the video "Revved Up", a six clip compilation.
The tours included headlining shows, an unplugged concert for the MTV, and opening gigs for bands such as Kiss and Deep Purple. It was after their European tour with Deep Purple in April 1991 when the band called it a day due to musical differences and management issues.
In 1997 some Vixen members tried a comeback. Drummer Roxy Petrucci reformed the band again with Janet Gardner at the mic and rythim guitar and Gina Stile in the position of Kuehnemund, who later sued the band for copyright infringement. This lineup toured the States in 1997 with Rana Ross on the bass, and released an album "Tangerine" in 1998 on CMC International, with a grungy sound strongly different to the one trademarked by the original Vixen. All their songs where co-written by Gardner and Stile, and the bass was recorded by Mike Pisculli. Again they toured across their country, this time with Roxy's sister Maxine on bass. The former bassist Share Pedersen joined her husband's Dogs D'Amour and also formed Bubble with him.
This comeback attempt didn't last too much, and in 1998 the band splitted up for the second time, but in 2001 it was Kuehnemund's turn to reform the band she founded twenty years ago. The new Vixen incarnation consisted of Jan, Janet Gardner, Roxy Petrucci and Pat Holloway. But it was again not a pleasant comeback, as the lineup changed completely amid the U.S Voices Of Metal tour with only Kuehnemund holding the band's name and quickly recruiting Jenna Sanz-Agero (Jenna Piccolo) as vocalist, Lynn Louise Lowrey on the bass and Kathrin "Kat" Kraft on the drums to complete the tour.
This lineup, currently together, in 2006 released a new studio album entitled "Live & Learn" (Demolition Records) and a live album and DVD called "Extended Versions", recorded in Sweden Rock Festival in 2005. Before this, the classic formation reunited for a special show at VH1's "Bands reunited" in 2004. Following its broadcast, EMI re-released the first two Vixen albums.
A special remix with bonus tracks and a DVD of the Sweden Rock' 05 concert, entitled "Live In Sweden" is yet to be released in Europe.
At the end of 2012, Jan Kuehnemund was planning to reunite the classic Vixen line-up with Janet Gardner, Share Pedersen, and Roxy Petrucci, who had since reunited in JSRG with guitarist Gina Stile. However, in January 2013, just days before they were about to make the official announcement of their reunion, Kuehnemund was diagnosed with cancer. The cancer diagnosis forced them to delay the announcement indefinitely, until possibly when Kuehnemund was fully recovered and cancer-free. Unfortunately, the plans of a full-fledged reunion became impossible because on October 10, 2013, after nine months battling cancer, Jan Kuehnemund passed away at the age of 51.
Jenna Sanz-Agero (Jenna Piccolo) – Vocals
Jan Kuehnemund (RIP) – Guitar, backing vocals
Lynn Louise Lowrey – Bass, backing vocals
Kathrin "Kat" Kraft – Drums, backing vocals
Richard Marx – Keyboards on "Vixen"
Michael Alemania – Keyboards on "Rev It Up"
Mike Pisculli – Bass, backing vocals on "Tangerine"
Chris Fayz – Keyboards on "Live & Learn"
Randy Wooten – Keyboards on "Live & Learn"
Paulie Cerra – Saxophone on "Live & Learn"
Robert Lear – Bagpipes on "Live & Learn"
Janet Gardner – Vocals, guitar
Liza Carbe – Bass, backing vocals
Tamara Ivanov – Guitar, backing vocals
Pia Maiocco – Bass, backing vocals
Laurie Hedlund – Drums, backing vocals
Roxy Petrucci – Drums, backing vocals
Share Pedersen – Bass, backing vocals
Gina Stile – Guitar, backing vocals
Rana Ross – Bass, backing vocals
Maxine Petrucci – Bass, backing vocals
Pat Holloway – Bass, backing vocals
Noelle Bucci – Vocals
Gayle Erickson-DeMatoff – Bass, backing vocals
Cindy Boettcher – Keyboards, backing vocals
Marlene Peterson – Drums, backing vocals
Nancy Shanks – Vocals
1988, "Vixen" (LP)
1990, "Rev It Up" (LP)
1998, "Tangerine" (LP)
2006, "Live & Learn" (LP)
2006, "Extended Versions" (Live LP, 2006)
Cialis preise in Deutschland erektile Dysfunktion Cialis Generika 20mg kaufen in Deutschland. Il miglior negozio online Cialis – leggi di piu. La nostra offerta ti interesserà!